Severe storms and isolated tornadoes could slam DC area Sunday, Monday
BETHESDA, Md. (FOX 5 DC) - Multiple days of severe weather potential are looming for the DMV. 
Sunday features a low-end risk in far northwestern zones, but Monday's threat is more significant, and covers the entire FOX 5 viewing area.
At least an isolated tornado is possible either day, particularly on Monday. Damaging to locally destructive winds could also be a hazard.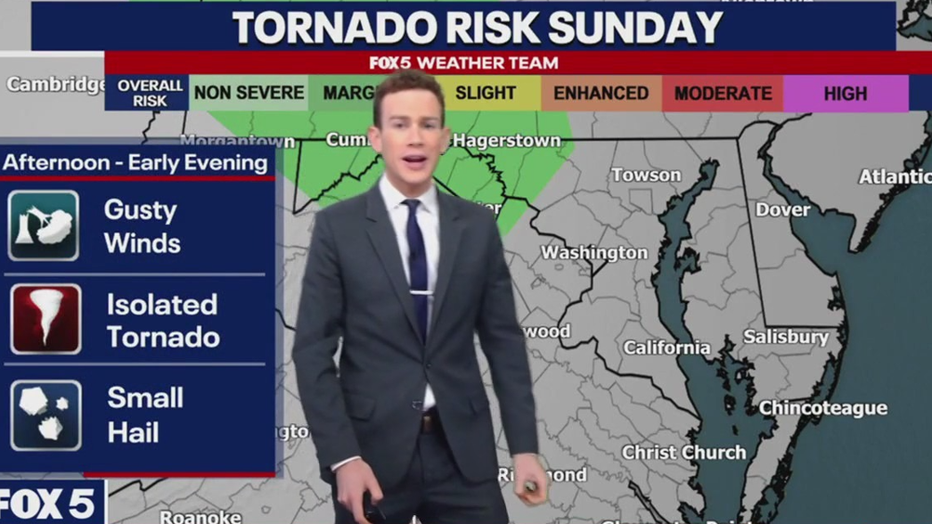 While a more noteworthy episode is possible, there remain lingering uncertainties regarding the setup — namely whether cloud cover will cut back on daytime heating, and therefore reduce thunderstorm fuel.
Regardless, DMV residents should navigate their plans in a heightened state of awareness on Monday, and should be prepared to exercise their severe weather plans if needed.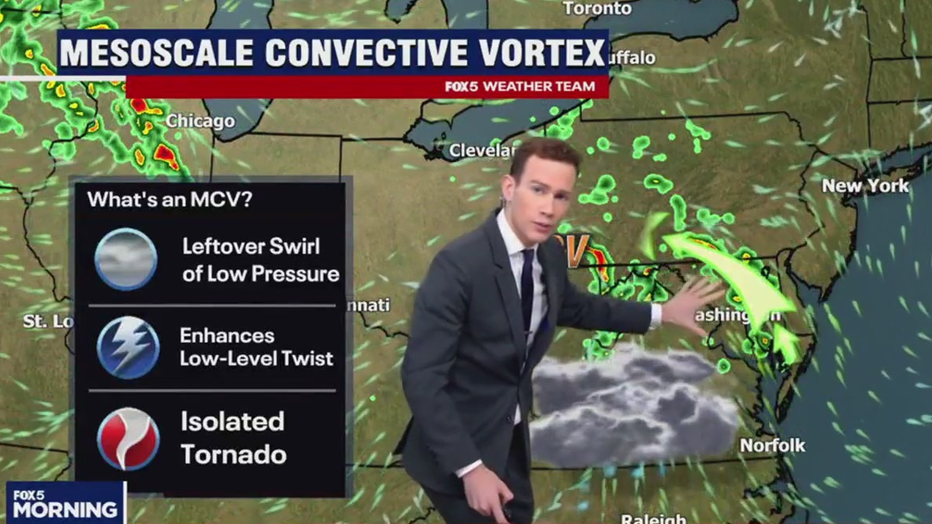 Here's the latest on what to expect:
Sunday
Areas at risk: Panhandle of Maryland, I-68, I-81, northwestern Virginia
Timing: 4-8 p.m.
Hazards: Gusty winds, small hail, very low-end risk of isolated brief tornado
Synopsis: A "MCV", or mesoscale convective vortex, is present over Illinois. (That's a remnant weak swirl of low pressure left over from since-decayed thunderstorms.) Its broad counterclockwise spin may approach the Pennsylvania border on Sunday afternoon, enhancing low-level easterly flow ahead of it. That would in turn enhance low-level helicity, or spin, and make an isolated rotating storm possible. Risk will be greatest near Pennsylvania.
Monday
Areas at risk: Entire DMV, especially northwestern zones
Timing: 4-11 p.m.; multiple rounds possible
Hazards: Damaging winds of 60-75 mph in a few storms; large hail; at least isolated tornado risk
Synopsis: A sprawling large-scale low pressure system, nestled in a potent jet stream dip, will approach from the Great Lakes. Warm, humid air will be tugged north ahead of the counterclockwise-spinning low, while a cold front trails behind it. The clashing air masses will brew strong to severe thunderstorms.
The jet stream, meanwhile, will impart wind shear, or a change of wind speed and/or direction with height. That will encourage rotation within storms.
There is also dry air at the mid-levels. Dry air is denser than moist air, and therefore heavier per unit; it wants to sink. That dry air could mix into the downward plumes of thunderstorms (downdrafts) and cause pockets of air to accelerate toward the ground. That would bring strong winds to the surface.
Uncertainty: Overall severe risk will depend on the extent of destabilization — how much we can "juice up" the atmosphere with sunshine and daytime heating. If we clear cloud cover from a morning batch of storms (uncertain), we will heat the ground/accrue fuel for afternoon severe thunderstorms. If the clouds hang thick, temperatures won't climb as fast, and severe weather risk will wane.
We are also uncertain about the speed of the overall system, and when the cold front arrives.
Tornado risk will be maximized near and just south of the warm front, but it's unclear where that will set up.
There is also the potential for several rounds of storms — one along the "prefrontal trough," or a diffuse strip of weak low pressure east of the Appalachians, and another along the actual code front.
We encourage viewers to download the FOX 5 DC mobile app, follow our meteorologists on social media, and stay tuned to FOX5DC on air and online when threatening weather approaches.