Capri Cafaro's 'Late Night Snack S'Mores Dip'
Here's the recipe Capri Cafaro offered up on "The Final 5" for a S'mores Dip she says anyone can make with ingredients in their kitchen right now!
Late Night Snack S'Mores Dip 
(Made in the microwave and finished off in the oven)
INGREDIENTS 
•    3  Milk Chocolate Bars  OR 12 oz semi or milk chocolate chips
•    3 tablespoons heavy cream OR 1 can sweetened condensed milk OR 1 TBSP Butter (butter better for oven only preparation)
•    1/2 to 3/4 cup miniature marshmallows OR 12 large marshmallows 
•    Graham crackers for serving.  Fruit, pound cake, pretzels also good for dipping. 
MICROWAVE DIRECTIONS 
•    Heat oven to 350°F. 
•    Break chocolate bars into small pieces or use chocolate chips
•    Put chocolate and heavy cream/condensed milk/butter in microwave-safe and ovenproof dish  (I like mine from Pampered Chef combo dish) 
•    Microwave at MEDIUM for 30 seconds & stir until chocolate is melted and mixture is creamy.  
•    Place marshmallows on top of chocolate mix. 
•    Heat in oven 10 to 12 minutes or until marshmallows are tinged brown Remove from oven
•    Cool 5 minutes. 
•    Serve with graham crackers or preferred dipping snack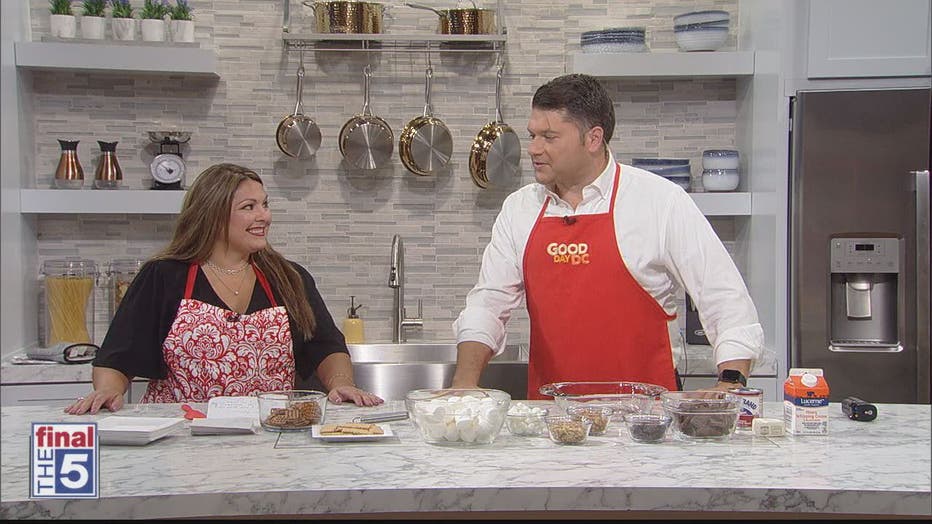 Adapted from recipes found at: 
•    https://www.shugarysweets.com/wp-json/mv-create/v1/creations/1/print
•    https://www.hersheys.com/kitchens/en_us/recipes/hersheys-smores-dip.html
•    http://www.lodgemfg.com/recipe/skillet-smores-dip