Women's World Cup: Sweden makes its rivals sweat | July 23, 2023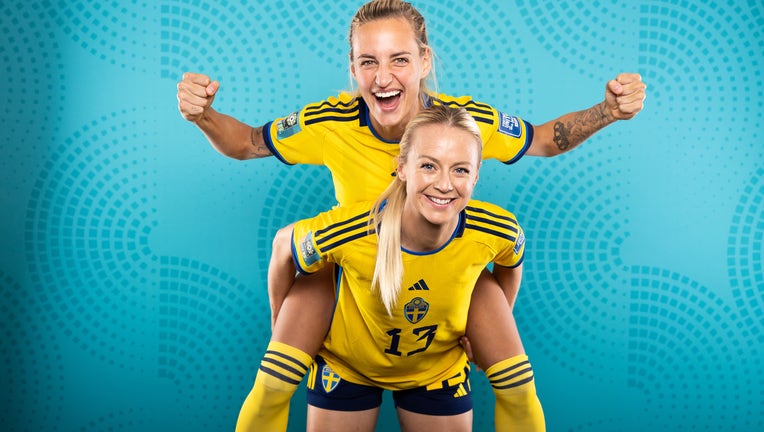 article
CHICAGO - The FIFA Women's World Cup only happens once every four years, and whether you're a soccer devotee or someone who just tunes in when the Cup comes around, you won't want to miss the action. Never fear: We've got you covered.
Every day through the Final on August 20, FOX Digital will be breaking down the details on all the can't-miss matches, players to watch and other essential details. What's next: The mighty Swedes make everyone sweat.
Watch the 2023 FIFA Women's World Cup only on FOX and FS1.
Women's World Cup matches on July 23, 2023
Day three features three matches.
Sweden vs. South Africa, 1:00 a.m. EST (FOX, FOX Sports app) 
Netherlands vs. Portugal, 3:30 a.m. EST (FOX, FOX Sports app) 
France vs. Jamaica, 6:00 a.m. EST (FOX, FOX Sports app) 
For details on the results of concluded matches, scroll down to the 'Soccer spoilers' section. 
Match spotlight: Sweden vs. South Africa
Okay, so the Swedish team didn't charge all the way to a title in the UEFA Women's EURO – England trounced them pretty thoroughly en route to their championship win. Still, this side (and their acclaimed coach Peter Gerhardsson) are ones to watch. Having bamboozled the U.S. team in the Tokyo Olympics (not to mention winning bronze in the 2019 Cup), this is a team to watch. 
And there's an argument to be made that a Cup victory is all but inevitable, after four trips to the World Cup podium without ever coming out on top. They've got multiple almost-but-not-quite losses behind them – statistically speaking, eventually something's got to give, right?
As for South Africa, Banyana Banyana are one of the field's most interesting dark horses: FIFA notes that "South Africa won all six games at the WAFCON to conquer the competition for the first time [and] recently beat European opposition for the first time in five years." If you're the type that loves to watch a potential upset, this is a match you won't want to miss. 
RELATED: 8 teams that could stop USWNT from three-peating at 2023 World Cup
Players to watch on July 23, 2023
France: Wendie Renard, defender
The captain of the French, the imposing Renard (she's over six feet tall!) will be participating in her fourth World Cup, with an impressive 34 goals to her name and an even-more staggering 144 appearances with Les Bleues. She's a towering figure – and not just because she's so darned tall. Expect big things from le capitaine.
Where is the 2023 Women's World Cup taking place?
The eyes (and cameras) of the world have turned toward host countries Australia and New Zealand. 
In what time zone is the Women's World Cup taking place?
Well, there's more than one time zone involved, as the battles for the Cup will take place in 10 stadiums in two countries. But suffice it to say that you're looking at times that are anywhere from 12 hours (for matches in Perth, Australia) to 16 hours (all New Zealand-based matches) ahead of EST. 
That means some matches – like Nigeria vs. Canada, the first match of day two (July 21) – will be played early in the day locally but air on what's technically the evening before in the U.S. (in this case, July 20). Who said there's no such thing as time travel?
RELATED: Who could be the breakout star for this young, talented USWNT squad?
Where can you stream the FIFA Women's World Cup?
We're living in the future, baby! All matches will be live-streamed on FOXSports.com and via the FOX Sports app, and full replays will also be available. So if you're not into watching soccer at 3 a.m., you're covered! 
How can I watch the FIFA Women's World Cup on live TV?
The FIFA Women's World Cup will air on FOX and FS1. The complete schedule awaits your perusal at FOXSports.com. In addition to all FIFA Women's World Cup matches, head to your preferred FOX platform for game highlights, replays, stats, player stories, analysis and more. 
How does the elimination round work in the Women's World Cup?
Good question! As with the men's World Cup, it's a wee bit complicated. The 32 qualifying teams have been split into eight groups, each assigned a letter (A-H). In the first round, the groups compete against each other: each "side" (team) will participate in three in-group matches. A win is worth three points, a draw worth one point and a loss is worth (you guessed it) zero points. 
At the end of the round, the top two teams (as determined by point total) in each group proceed to the knockout round. That's 16 teams total. 
RELATED: 2023 Women's World Cup betting primer: How to bet on soccer
When does Team USA play next?
After their July 21 showdown with Vietnam, Alex Morgan, Lindsay Horan and company will square off against the Netherlands on July 27.
Soccer spoilers: day three results
Sweden vs. South Africa: Amanda Ilestedt scored in the 89th minute to give Sweden a 2-1 win over South Africa in its Group G opener at the Women's World Cup Sunday. The late goal denied South Africa, which scored first and won the hearts of the crowd for their brave underdog performance. South Africa got a goal from Hildah Magaia goal in the 48th minute and threatened the first major upset of the tournament. Then Sweden got on the board with a goal from Fridolina Rolfo. Ilestedt later scored on a perfect header from a corner with a minute left to give Sweden the win.
Netherlands vs. Portugal: Stefanie van der Gragt scored on a header in the 13th minute, leading Netherlands to a 1-0 win over Portugal at the Women's World Cup as the 2019 finalists began their tournament run. The Dutch defender gathered herself as teammate Sherida Spitse lofted a corner kick her way, then headed the ball across the goal into the far side of the net. An offside review delayed the celebration. The win sets up the Netherlands for a rematch of the 2019 final against the United States. The U.S. won that final 2-0.
France vs. Jamaica: Jamaica produced one of the biggest surprises of the Women's World Cup by holding France to a 0-0 draw. France's Kadidiatou Diani struck the bar with a 90th-minute header but one of the tournament favorites had to settle for a point. The draw saw Jamaica pick up its first ever point in the competition. That was despite Jamaica ending the game with 10 players after Khadija Shaw was sent off in time added on. Diani had France's best chances to score a winner but could not find a breakthrough at the Sydney Football Stadium.
Watch the 2023 FIFA Women's World Cup only on FOX and FS1.