Redskins' Gruden: Haskins 'getting more comfortable' under center, LB Sweat adding practice reps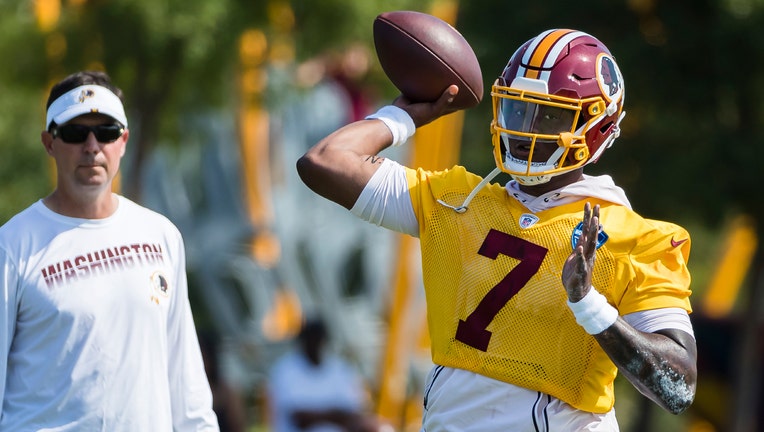 article
RICHMOND, Va. - The Washington Redskins announced a flurry of preseason roster moves Sunday, including a new quarterback and another one heading to injured reserve.
The burgundy and gold also announced the release of wideout T.J. Rahming, and the injury waiver of linebacker Garrett Sickels.
Quarterback Jalan McClendon, defensive back Dejuan Neal and linebacker Darrell Williams are new additions in training camp. Josh Woodrum, another quarterback, is now on the injured list.
The 'Skins play next Thursday night at home against the Cincinnati Bengals. The team shared the following quotes from Head Coach Jay Gruden on the latest in training camp:
On new QB Jalan McClendon:
"Well, he'll be obviously the fourth quarterback and try to get him some snaps out here and maybe clean up some games there, third or fourth preseason game maybe."
On McClendon's skillset:
"Yeah I think he had a good workout; moves around a little bit, has a big arm. Still got to get him taught the offense here. It's going to be a long process, but he's a good kid. He's got some talent."
On LB Montez Sweat's progress:
"We'll see. He had a decent day yesterday. We added more reps to his plate and he looked like he handled it pretty good – came out clean. Just add more and more reps today and then have an off day tomorrow and then see where he's at Tuesday and hopefully we'll get him some playing time."
On his overall impression of training camp: 
"Yeah I think it went good. We accomplished what we wanted to. We've had some good days and we've had some sloppy days as most teams do this time of year. Overall, I think we've got a good look at a lot of guys and that's the intent of training camp – to get your system installed and then watch these guys progress, watch these guys play and just continue to add to our evaluation process. I think we've done a good job so far. Still a lot of time left for these guys to show what they can do and put some days together and try to fight to make this football team."
On the plan to prepare for the second preseason game while also moving operations back up to Ashburn:
"Today is going to be a good day. We're still in shoulder pads today so I think we're going to have a good day and I'll see how we come out of this injury wise and I'll make my determination probably tomorrow or Tuesday and decide who is going to play and how much."
On if QB Colt McCoy will be available for the second preseason game:
"Yeah I think he will be."
On if he has a better feel for the left tackle position following the end of training camp:
"Well, we're still working through it, really. Geron [Christian Sr.] is getting more reps and obviously [Donald] Penn; we could also look at [Ereck] Flowers over there a little bit more at left tackle depending on how we feel Wes Martin is doing at left guard – he's getting better and better. The biggest thing is put our five best guys out there and make sure that left side is good. We'll continue to work. Geron's coming back from his injury like we all know, he's got a chance. Obviously Donald is a veteran guy who has been there and blocked a lot of guys in his career and then Ereck Flowers has played both sides as a right and left tackle in his career, so we have some guys that can play it, we've just got to figure out which one's best for us."
On if getting a lot of different players reps at left tackle during training camp was a positive:
"Oh for sure, it is a positive. They're getting work and that's a positive thing because your depth is tested throughout the year as we all know. So the more reps these guys get, the better we'll feel come game time if they have to start. We're a work in progress without a doubt. We're not a finished product by any stretch, but these guys are working hard and I believe we'll find one come Philly."  
On QB Dwayne Haskins' comfort level under center as opposed to shotgun: 
"Yeah, he's getting more comfortable for sure. It doesn't look unnatural at all to him. It looks like he's done it his whole career really. He's natural under center. Only had one botched exchange and that's usually on the center. But he's been fine in that regard."
On his message to the younger players heading into the second preseason game: 
"Yeah, for sure and then as we get going in the preseason, we'll prepare a little bit more for our opponent and try to give them a way of going about preparation as far as studying, how to study your opponent and how to study the game plan, how they transfer that into the game day. So, definitely want to see these guys continue to improve, that's what you're looking for and finding some consistency in that regard. I'm excited to watch these guys play, not just Jimmy and Dwayne, but a lot of other guys, too. You know, I want see how Cole Holcomb does in his second game and the rest of these guys: offensive line, defensive line, and secondary."
On setting the reps at wide receiver:
"Yeah, that is a tough position. Like I said, there's a different skill set for all these guys. You got your slot receivers, you got your big, physical receivers, you got your speed receivers and then you have to factor in special teams. We drafted Terry [McLaurin] because he's one of the best special teams guys in the league. But if he's also one of the top receivers in the league then we might have to keep a guy that's really good on special teams. All that has to factor in, so we're really evaluating how they do at receiver, how much they know, how many different positions they know and how productive they are. But also special teams will play a role eventually."   
On WR Trey Quinn:
"Yeah, yeah. He's got a little sore thumb right now, but yeah, definitely. He's got the skillset you want at receiver: tough, physical, smart. You know, you've got to have those attributes to play slot because there's a lot of different looks you got – lot of different formations, nuances at that position that you have to handle mentally and physically and we feel like he can do that. But, we also have some guys emerging. You know, Steven Sims is doing a good job in there, [Darvin] Kidsy can play all three spots – he's doing a good job, as well. So, it's great to see Trey when he's out there; he's very productive, very good, very dependable, very durable – he hasn't been durable, he's been hurt – but, very dependable, knows what to do, knows how to get there and catches the ball extremely well."
On injury updates for Quinn and CB Quinton Dunbar:
"Yeah, Trey [Quinn] hurt his thumb [during] pregame warm up, guy ran into him so he'll probably be questionable for the game; but he'll be okay. Dunbar he's just a little sore, so we kept him out yesterday, we'll see how he does today. And then Josh [Woodrum] is going to have surgery today I think."