Water main break in downtown Silver Spring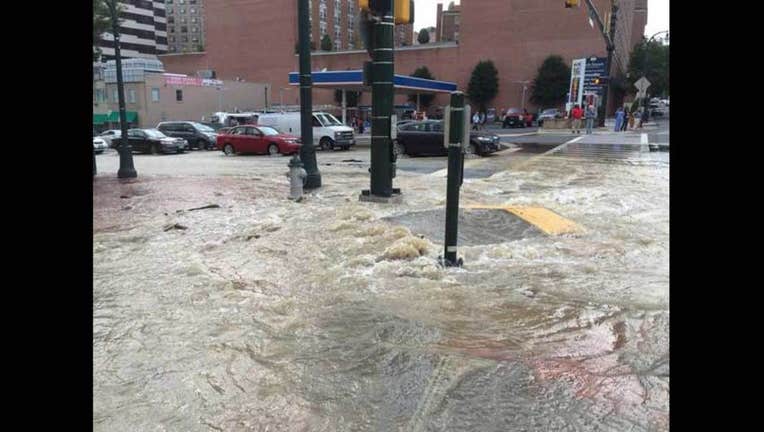 article
8/2/15, 7pm update:
Traffic will continue to be a problem in downtown Silver Spring for a few more days.
WSSC says work crews have completed the majority of repairs on the 16 inch water main on Colesville Road at Georgia Avenue. Additional work will be finished on Monday because the latest concrete repairs need to cure. Final paving is expected to begin on Tuesday.
The broken section of pipe has been replaced and all other utilities in the area have been checked and repaired as necessary. Water will begin flowing through the new pipe on Monday. All customers in the area have water service from other pipes.
Two lanes will remain closed through much of Monday and other lane closures are expected to begin on Tuesday while final paving is completed.
As of 5:00 p.m. today, the right, northbound lane of Colesville Road will remain closed and the right, southbound lane of Georgia Avenue will remain closed. The center, northbound lane of Colesville Road is open. Another update on the lane situation will be provided on Monday.
Crews will return after Monday's morning rush hour to finish underground concrete work. Final paving of the road and restoration to the sidewalk at Colesville Road and Georgia Avenue will begin on Tuesday.
Crews are working to shut off water flooding the roadway on Georgia Avenue in downtown Silver Spring after a water main break.
The Washington Suburban Sanitary Commission says a 16-inch pipe broke Wednesday afternoon in the 8600 block of Georgia Avenue at Colesville Road.
Montgomery County police say two lanes of Colesville Road at Georgia Ave are being blocked off to allow crews to make repairs on the water main. Drivers are being advised to avoid the area.
Stay with MyFoxDC.com and FOX 5 News for the latest on this story.