Virginia 6-year-old who shot teacher won't face charges but others could: Prosecutor
Two months after the shooting of an elementary teacher by a 6-year-old in Virginia, the city prosecutor ruled that he would not seek charges against the young boy but has yet to decide whether any adults associated with the case could be held criminally liable.
Newport News Commonwealth's Attorney Howard Gwynn said in an interview with NBC News that the "prospect that a 6-year-old can stand trial is problematic" since a 6-year-old would not have the competency, "to understand the legal system and what a charge means or adequately assist an attorney."
READ MORE: 6-year-old shoots teacher at Newport News elementary school: police
Gwynn told NBC News that he does not believe there is a path forward charging the 6-year-old responsible for the shooting of his second grade teacher. Instead, Gwynn is focusing on others.
The boy shot 25-year-old Abigail Zwerner with a handgun owned by his mother as she taught class at the elementary school. Police said that the boy's mother had legally purchased the 9mm handgun used in the shooting, and the family said that the gun had been "secured" in the mother's closet on a shelf well over six feet high, with a trigger lock that required a key.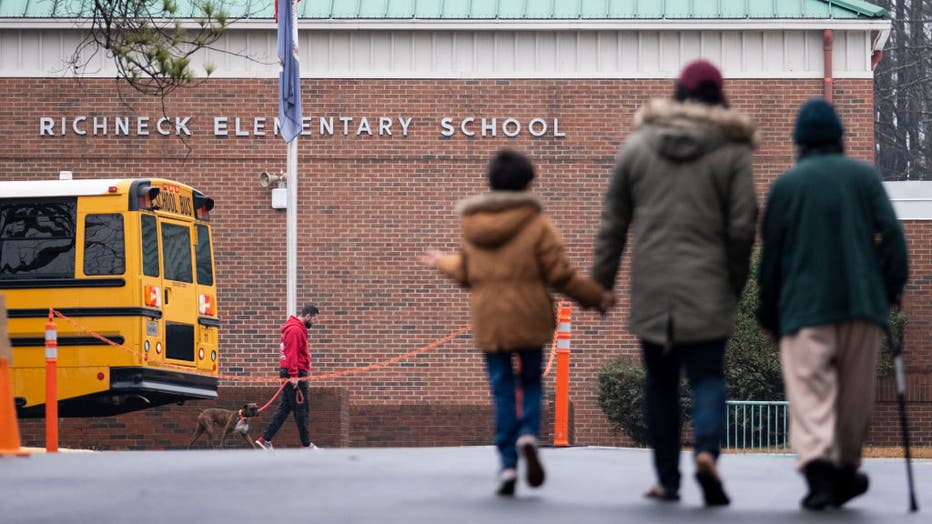 Students return to Richneck Elementary in Newport News on Jan. 30, 2023, for the first time since a 6-year-old shot teacher Abby Zwerner three weeks prior. (Billy Schuerman/Daily Press/Newport News/Tribune News Service via Getty Images)
The family also shared that the young boy had an "acute disability" that included an allowance for one of his parents to accompany him to class every day. The week of the shooting was the first time a parent was not present.
"Our objective is not just to do something as quickly as possible," Gwynn said. "Once we analyze all the facts, we will charge any person or persons that we believe we can prove beyond a reasonable doubt committed a crime."
READ MORE: 6-year-old who shot teacher allegedly tried to choke another
Virginia law does not allow 6-year-olds to be tried as adults. In addition, a 6-year-old is too young to be committed to the custody of the Department of Juvenile Justice if found guilty.
A juvenile judge would have the authority, though, to revoke a parent's custody and place a child under the purview of the Department of Social Services.
Zwerner is suing the school district following the shooting. On Jan. 25, her attorney, Diane Toscano, said that on the day of the shooting, concerned teachers and employees warned administrators three times that the boy had a gun on him and was threatening other students, "but the administration could not be bothered."
"On that day, over the course of a few hours, three different times — three times — school administration was warned by concerned teachers and employees that the boy had a gun on him at the school and was threatening people. But the administration could not be bothered," Toscano told Fox News Digital.
In the aftermath of the shooting, Richneck Elementary School removed the school district's superintendent amid backlash from concerned parent's claiming the school's negligence. 
"How many shootings and incidents does it take to start using metal detectors at every school, every entrance, every day, 24/7 with no exceptions." Riri Mimi wrote. "Issue a clear backpack policy AND put armed school resource officers in EVERY school."
Fox News Digital's Louis Casiano contributed to this report.