6-year-old who shot teacher allegedly tried to choke another
RICHMOND, Va. - A 6-year-old Virginia boy who shot and wounded his first-grade teacher constantly cursed at staff and teachers, tried to whip students with his belt and once choked another teacher "until she couldn't breathe," according to a legal notice filed by an attorney for the wounded teacher.
The incidents were described in a notice sent to the Newport News school district by Diane Toscano, an attorney for teacher Abby Zwerner, informing the district that Zwerner intends to sue. The notice of claim, which was obtained by The Associated Press through a public records request, outlines prior behavioral issues the boy had at Richneck Elementary School and troubling interactions he had with teachers and students.
Two days before the shooting, the boy allegedly "slammed" Zwerner's cellphone and broke it, according to the claim notice. He was given a one-day suspension, but when he returned to Zwerner's class the following day, he pulled a 9mm handgun out of his pocket and shot her while she sat at a reading table, the notice says.
RELATED: Newport News elementary school shooting: Teacher shot by 6-year-old identified as parents demand action
"It is a miracle that more people were not harmed," Toscano wrote in her notice. "The shooter spent his entire recess with a gun in his pocket, a gun that was loaded and ready to fire ... while lots of first-grade students played."
The choking incident described in the notice was confirmed by the teacher. She said that in 2021, the boy came up behind her as she sat in a chair in the front of the class, locked his forearms in front of her neck and pulled back and down, hard. She said a teaching assistant pulled the boy off her.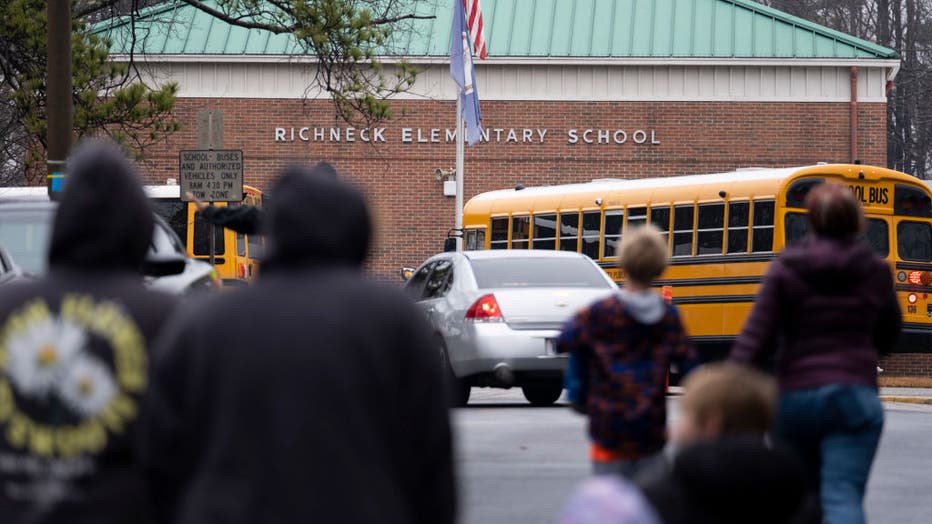 Students return to Richneck Elementary in Newport News, Virginia, on Jan. 30, 2023, for the first time since a 6-year-old shot teacher Abby Zwerner three weeks before. (Billy Schuerman/Newport News Daily Press/Tribune News Service via Getty Images)
The teacher requested anonymity because she fears potential retaliation from the school district. She said she reported the incident to school administrators, but did not receive the kind of supportive response she had hoped for from them.
"I didn't feel safe the rest of the year because I knew if they didn't protect me when he choked me and I couldn't breathe, then they wouldn't protect me, my kids or my colleagues if he did something not as harmful," she told The Associated Press.
The boy was later moved into another class in another school.
After the shooting, police said the boy was taken to a medical facility where he is receiving unspecified services.
The legal notice sent fleshed out Zwerner's allegations of negligence at Richneck on the morning of Jan. 6, which Toscano had first outlined last month at a news conference.
READ MORE: Metal detectors to be used in all Newport News schools after 6-year-old boy shot, wounded teacher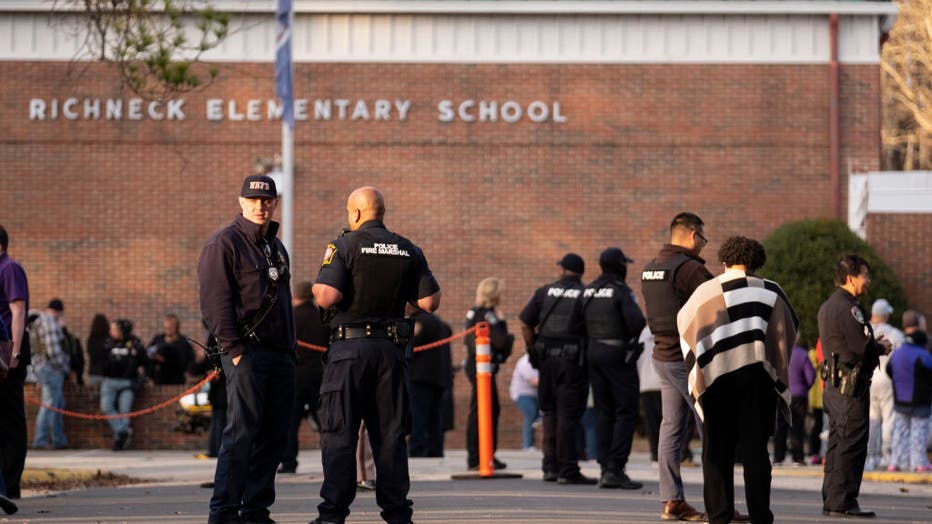 Police respond to a shooting that injured a teacher at Richneck Elementary in Newport News, Virginia, on Jan. 6, 2023. (Billy Schuerman/The Virginian-Pilot/Tribune News Service via Getty Images)
A detailed timeline describes how Zwerner, three other teachers and a guidance counselor were involved in airing concerns about the child possibly having a gun.
"If Assistant Principal (Ebony) Parker had acted on the information she was provided, then the shooting of Ms. Zwerner would not have happened," the notice stated.
Zwerner went to former Assistant Principal Parker's office at about 11:15 a.m. "to advise her that the shooter seemed more 'off' than usual and was in a violent mood." It also says the boy had threatened to beat up a kindergarten student and "angrily stared down" the school security officer in the lunch room.
At about 11:45 p.m. another teacher learned that the boy had told students he had a gun in his backpack, the notice stated. The teacher searched the backpack at about 12:30 p.m. but found no gun.
The same teacher "was made aware that the shooter had taken something out of his backpack right before she searched the shooter's backpack, and the shooter put it in the pocket of his hoodie before going out to recess," the notice stated.
When that teacher raised concerns to Parker, the assistant principal said the student "had small pockets, insinuating that he could not possibly have a gun on his person," the notice of claim stated.
"Assistant Principal Parker should have called police," the notice stated. "Instead, she did not follow proper protocol and chose to do absolutely nothing."
Shortly after 1 p.m., a third teacher learned from a student in Zwerner's class that the shooter showed him the gun during recess and threatened to shoot him if he told anyone, the notice stated.
That teacher called the school's office and shared what she knew with a fourth teacher who picked up the phone, the notice stated. The fourth teacher relayed the information to Parker, who said she was aware of the threat and that the student's backpack had been searched.
The third and fourth teachers conferred again. And the fourth teacher returned to Parker's office, where a guidance counselor was raising similar concerns about the student having a gun, the notice stated.
The guidance counselor asked if he could search the child for a weapon, to which Parker said "no" because the child's mother was arriving soon to pick him up, the notice stated.
"Then approximately 45 minutes later Ms. Zwerner was shot in her left hand and upper chest by the shooter," the notice stated. "Ms. Zwerner was sitting at her reading table when the shooter, who was sitting at his desk, pulled the gun out of his pocket and shot her one time."
Parker, who resigned from her position last month, could not immediately be reached for comment. A spokeswoman for the school district said she did not know if Parker has retained an attorney.
Len Wallin, director of legal services for the school system, said in an email that it's standard practice for the school division to forward notices of intent to sue to its insurer, which handles such litigation.
Wallin said the district's insurer will handle decisions regarding whether it will represent Parker or not "after consultation with the school board, if that is necessary."
In the meantime, Toscano wrote in her notice that Zwerner's is continuing to recover physically and from psychological wounds that "cut deeply and remain fresh."
"It is my hope that the school district will not want to drag Ms. Zwerner through litigation after the trauma she has sustained," Toscano wrote.
"The response from the school district is going to be very important and will shed light on how it views its teachers," Toscano continued. I hope that the school district will not send a message that being shot while teaching a lesson in class by a student is merely a hazard of the job."