US Park Police Chief stepping down; makes first comments on Bisan Ghaisar shooting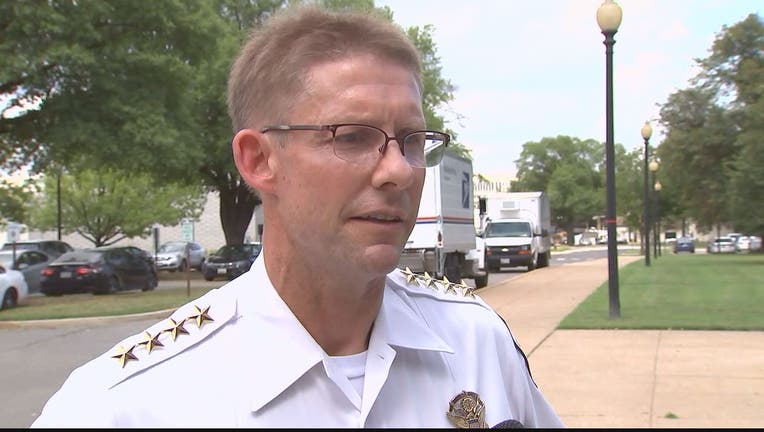 article
WASHINGTON - After six years as chief and more than two decades on the force, U.S. Park Police Chief Robert MacLean is moving on.
MacLean informed members of his staff in a meeting on Wednesday afternoon.
Two sources say he is taking a job at the Office of Law Enforcement and Security at the Department of Interior.
MacLean leaves his post under a cloud with the November 2017 shooting of Bijan Ghaisar still unresolved.
The fatal shooting of the 25 year old accountant is being investigated by the FBI which has so far refused to release any information about its investigation.
On Wednesday, MacLean made his first remarks about the case to FOX 5's Paul Wagner. Here is the exchange the two had outside police headquarters in Southwest.
"Chief you are leaving under a cloud," Wagner said, "You haven't said anything about the Bijan Ghaisar shooting and the two officers working for you. Can you tell the public why you haven't said anything?"
"To bring objectivity to any type of critical incident like that, what I decided to do is have the FBI investigate it to bring that impartiality and objectivity," MacLean said, "I met with the Ghaisar family shortly after the incident to explain the reason why and that's what we need to do in law enforcement is to afford the public the transparency of our actions of allowing an objective outside partner investigate our critical incidents like that."
"Do you know why it is taking so long? It is driving the public and the media and family crazy," Wagner asked.
"That is for the FBI to discuss", continued MacLean, "and the department of justice and the FBI have been great partners and by respecting the process is the way forward."
In August of last year -- nine months after the shooting -- FOX 5 confronted MacLean in an effort to get answers in the Ghaisar case but the chief declined to discuss it, telling FOX 5 it was not the time.
The U.S. Park Police released no information in the case, the only account of what happened coming from a Fairfax County police officer's dashcam and information released by the Fairfax County police. 
The names of the officers -- Lucas Vinyard and Alejandro Amaya -- were only revealed after the Ghaisar family filed a lawsuit.
The video shows the two officers pulling their guns on Ghaisar two times as he stopped along the George Washington Parkway in November of 2017 before shooting the 25 year old accountant as he slowly drove away from the officers on Fort Hunt Road.
Police found no weapons in the car.
The officers were pursuing Ghaisar because he left a minor fender bender he did not cause while driving on the George Washington Parkway.
The FBI -- despite pressure from Congress -- has refused to say anything about the investigation.