Trump calls Sen. Graham a 'publicity seeking' lawmaker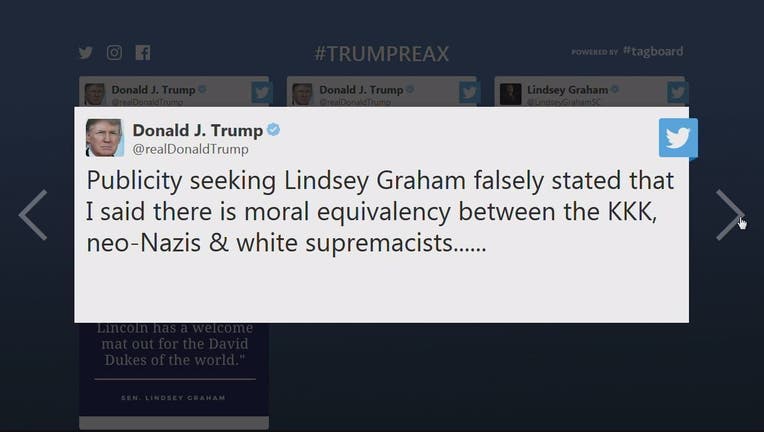 article
WASHINGTON - (AP) -- President Donald Trump has taken a swipe at a fellow Republican, calling Sen. Lindsey Graham a "publicity seeking" lawmaker.
In a daybreak post on his Twitter account Thursday, Trump faulted the GOP senator for statements Graham has made about the president's stance on the violence and death of a woman in Charlottesville, Virginia.
Trump said in his tweet: "Publicity seeking Lindsey Graham falsely stated that I said there is moral equivalency between the KKK, neo-Nazis & white supremacists and people like Ms. Heyer." He was referring to Heather Heyer, the woman who was killed when she was struck by a car driven into the crowd.
"Such a disgusting lie," Trump said of Graham's remarks. "He just can't forget his election trouncing. The people of South Carolina will remember."
In a separate tweet, Trump accused "the Fake News" of distorting "what I say about hate, bigotry, etc. Shame!"
© 2017 The Associated Press. All rights reserved. This material may not be published, broadcast, rewritten or redistributed.