Trooper who smashed window during recorded traffic stop was in compliance, cops say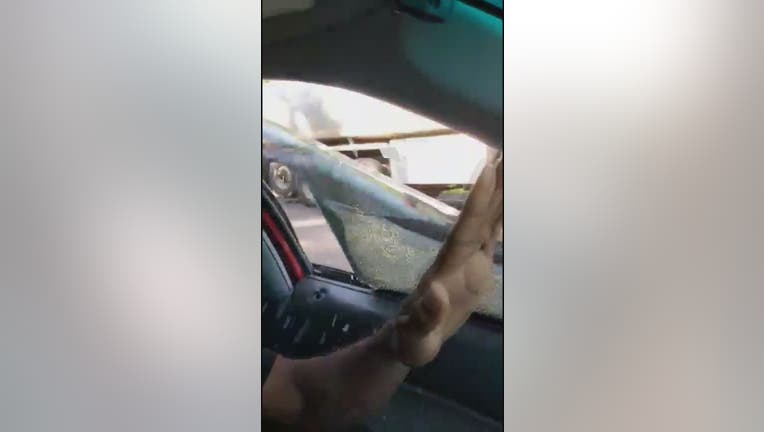 CALVERT COUNTY, Md. - Maryland State Police say that a Trooper who shattered a driver's side window during a traffic stop in Calvert County that the driver recorded was in compliance with guidelines.
PREVIOUS STORY: Maryland State Police investigating video where trooper rips out car window
In the video, a Trooper that State Police identify as Shareef Lewis pulls over Ray Anthony Harris, Jr. 23, of Dunkirk.
According to State Police, Lewis pulled over Harris because of dark tints on his Honda Civic.
After being pulled over, according to State Police, Harris declined to roll down his windows – which was not recorded in the video.
After Lewis tapped the window, Harris reportedly rolled down the passenger-side window slightly.
When Harris refused to roll the window down more, Lewis reportedly went around to the driver's side, where he did toll the window down about five inches.
Lewis repeatedly asked Harris to step out of the vehicle, and when he refused, Lewis pried the window down, smashing it.
State Police say he pulled the window toward himself in order to avoid hurting Harris.
Lewis can also be seen in the video unlocking Harris' door and pulling him from the car seat.
According to State Police, Lewis also smelled marijuana, and he eventually found a partially burned marijuana cigar.
On June 24, the Calvert County State's Attorney's office decided not to prosecute the case.
State Police say they reviewed the case, and determined that Lewis' "actions in this matter were consistent with the U.S. Supreme Court 1977 ruling, Pennsylvania v. Mimms, that it is reasonable under the Fourth Amendment for a police officer to order a lawfully detained individual to exit the vehicle for officer safety."