Tennessee school shooting: Police release surveillance video
NASHVILLE, Tenn. - Police in Tennessee have released surveillance video taken at the school where a deadly shooting took place on Mar. 27.
The shooting, according to officials, killed three nine-year-olds and three adults, all of whom were in their 60s. The suspect has been identified as 28-year-old Audrey Hale.
A surveillance video related to the shooting was posted by officials with the Metropolitan Nashville Police Department. Officials say the suspect drove to the school in her car, and then shot her way into the building.
In the video, a double glass door was shot through, and a gunman was seen walking through school corridors, as sirens were flashing. 
The video, as posted by police, did not show any person being shot, and the shooting suspect was seen wearing a red hat.
Hale was armed with two "assault-style" weapons as well as a handgun, authorities said. At least two of them were believed to have been obtained legally in the Nashville area, according to Nashville's Police Chief, John Drake.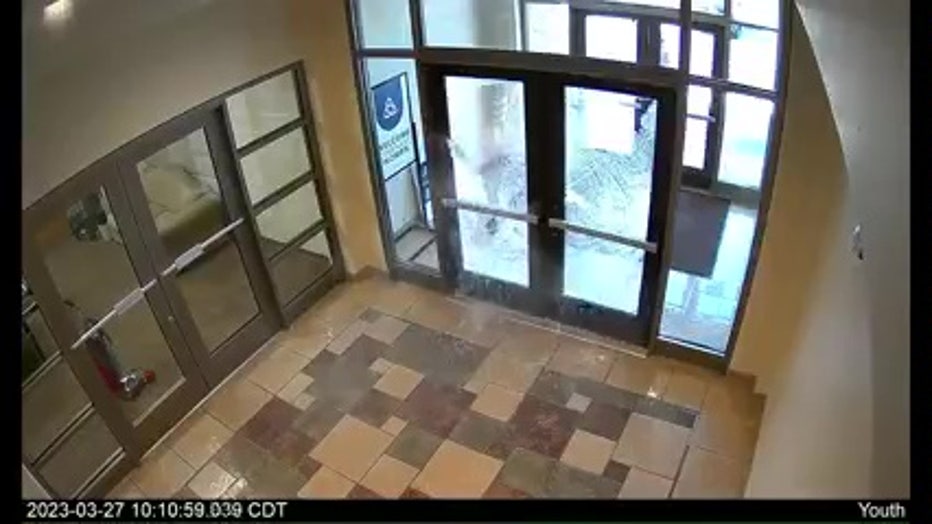 A photo taken from surveillance video showing the moment a glass double door was shot at during a shooting at The Covenant School in Nashville, Tenn.
According to the Associated Press, police gave unclear information on the gender of the shooter. For hours, police identified the shooter as a 28-year-old woman and eventually identified the person as Hale. Then at a late afternoon press conference, the police chief said that Hale was transgender. After the news conference, police spokesperson Don Aaron declined to elaborate on how Hale currently identified.
Drake did not give a specific motive when asked by reporters, but gave chilling examples of the shooter's prior planning for the targeted attack.
"We have a manifesto, we have some writings that we're going over that pertain to this date, the actual incident," he said. "We have a map drawn out of how this was all going to take place."
The attack at The Covenant School — which has about 200 students from preschool through sixth grade, as well as roughly 50 staff members — comes as communities around the nation are reeling from a spate of school violence, including the massacre at an elementary school in Uvalde, Texas, last year; a first grader who shot his teacher in Virginia; and a shooting last week in Denver that wounded two administrators.
As for Nashville, the city has seen its share of mass violence in recent years, including a Christmas Day 2020 attack where a recreational vehicle was intentionally detonated in the heart of Music City's historic downtown, killing the bomber, injuring three others and forcing more than 60 businesses to close. 
The Associated Press (AP) contributed to this report. This story was reported on from Phoenix.