2 killed, 5 injured after Virginia high school graduation ceremony
RICHMOND, Va. - A 19-year-old allegedly shot seven people, and killed two of them, police said, following a high school graduation ceremony Tuesday near Virginia Commonwealth University in downtown Richmond.
The suspect tried to flee but was arrested and will be charged with two counts of second-degree murder, Interim Richmond Police Chief Rick Edwards said in a nighttime news conference at which he confirmed the two fatalities.
Five others were wounded by the gunfire outside the Virginia capital's Altria Theater and in an adjacent park. At least 12 others were injured or treated for anxiety due to the mayhem, according to police.
"As they heard the gunfire, it was obviously chaos," Edwards said. "We had hundreds of people in Monroe Park, so people scattered. It was very chaotic at the scene."
Edwards said one of the people who was killed was an 18-year-old male student who had just graduated, while the other was a 36-year-old man who was there for the graduation. Their names were not released, but police believe the suspect, who was not immediately identified, knew at least one of the victims.
"This should have been a safe space. People should have felt safe at a graduation," Edwards said. "It's just incredibly tragic that someone decided to bring a gun to this incident and rain terror on our community." 
Six people were brought to VCU Medical Center and their conditions ranged from serious to critical late Tuesday, VCU Health System spokesperson Mary Kate Brogan said.
Two people were taken into custody after the incident, Interim Richmond Police Chief Rick Edwards initially said at an earlier news conference. One of those individuals was later released.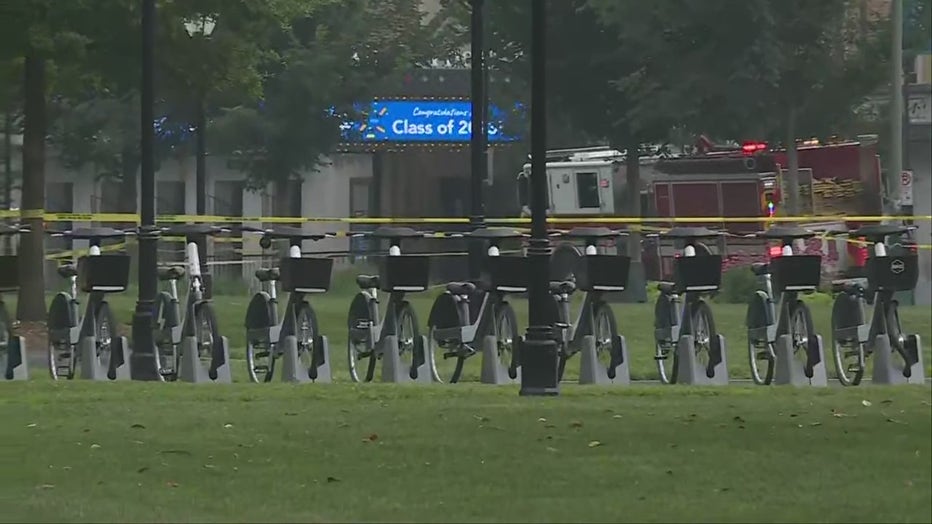 Police recovered multiple handguns.
Richmond Mayor Levar Stoney vowed to ensure anyone responsible faces justice.
"This should not be happening anywhere," Stoney said.
Officers inside the theater, where the graduation ceremony for Huguenot High School was taking place, heard gunfire around 5:15 p.m. and radioed to police stationed outside, who found multiple victims, Edwards said.
Four had injuries that were not life-threatening, he said. Police did not believe there was any ongoing threat to the community.
Richmond Public Schools said on its website that a different graduation scheduled for later Tuesday had been canceled "out of an abundance of caution."
"My administration continues monitoring the terrible shooting in the heart of Richmond tonight," Gov. Glenn Youngkin said on Twitter. "State law enforcement are fully supporting the Richmond Police Department as this investigation moves forward."
VCU advised the community in an online alert around 5:30 p.m. that police were responding after shots were fired. State police sent an alert warning people to avoid the area.
As a result of the tragic event, Richmond Public Schools announced via its website that all schools in the district will be closed on Wednesday.
The Associated Press contributed to this report.