Surveillance footage catches TSA agents stealing from passengers at Miami International
Surveillance video caught TSA agents at Miami International Airport stealing from airline passengers as they sent luggage through security, prosecutors say.
Video evidence released by the Miami-Dade County State Attorney's office appears to show two TSA agents taking money from the passengers on June 29.
Josue Gonzalez, 20; Elizabeth Fuster, 22; and Labarrius Williams, 33, were arrested in July and initially charged with organized scheme to defraud, according to Miami-Dade county jail records. They were booked into Turner Guilford Knight Detention Center.
The arrest affidavits state that Miami International Airport authorities began investigating several reports of theft at Security Checkpoint E, where the officers were stationed.
URAL AIRLINES FLIGHT MAKES EMERGENCY LANDING IN A FIELD IN RUSSIA AFTER PILOT FEAR RUNNING OUT OF FUEL
Arrest records stated that Gonzalez, Fuster and Williams were captured on surveillance footage working together to steal from passengers who sent their luggage through TSA security checks, NBC Miami reported.
The video released Monday appears to show Williams and Gonzalez pocketing money lifted from passengers' bags at security checkpoint E on June 29.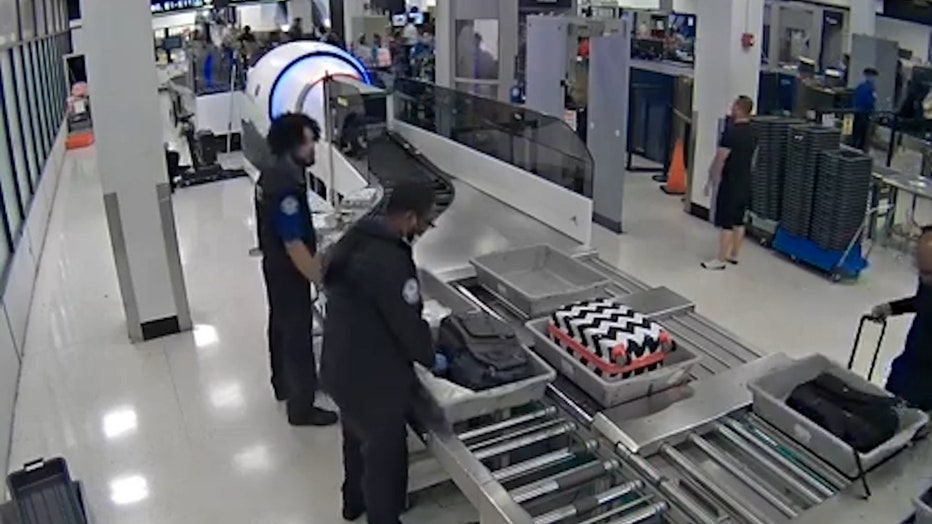 Still image taken from video showing TSA agents who appear to be stealing from passengers' bags.  (Miami-Dade State Attorney Office via Storyful)
In one clip, Williams can be seen with his hand in the corner of a carry-on bag moving through luggage screening. He walks away and appears to place his hand in his right pocket. Then Gonzalez is filmed putting his hand into the bag and pulling out an item that he stuffs in his pocket.
Another clip shows Gonzalez handling a purse as it moves down the conveyor belt. He appears to remove a wallet from the purse. 
Gonzalez is shown following the bin with the purse as it moves down the belt. When it reaches the x-ray machine, he puts his hands in his pockets and returns to the end of the line. 
COUPLE LIVID AFTER SITTING NEXT TO FARTING DOG ON 13-HOUR FLIGHT
Prosecutors alleged that the TSA officers attempted to distract passengers as they were screened while the others would rifle through passengers' belongings looking for money. 
In one instance, the three culprits managed to steal $600 from a single passenger's wallet. 
In August, Miami-Dade State Attorneys dropped charges against Fuster and closed her case. 
Gonzalez and Williams are each facing a grand theft in the third degree charge. Prosecutors have dropped the charges of organizing a scheme to defraud.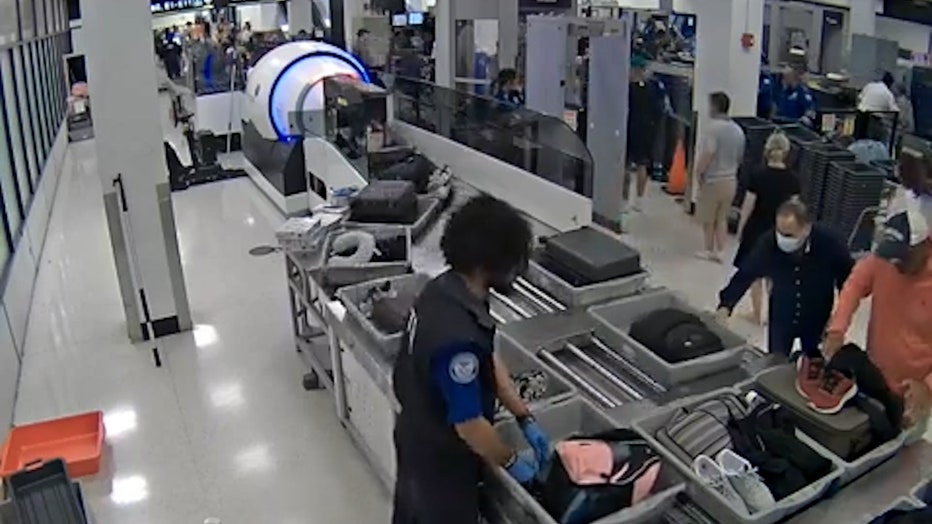 Still image taken from video showing TSA agents who appear to be stealing from travelers' bags. (Miami-Dade State Attorney Office via Storyful)
Gonzalez was reportedly accepted into a state program and will have his charges dropped if he successfully completes the program.
The program requires Gonzalez to pay $700 in restitution to the two victims involved and complete 25 hours of community service. He must also surrender his airport security credentials, according to NBC Miami.
GET FOX BUSINESS ON THE GO BY CLICKING HERE
Williams was denied entry into the same program and will head to trial next week.
Fox News' Emma Colton, Emily Robertson and Peter Petroff and Storyful contributed to this report.