Super Bowl 2023: Concussion safety
BETHESDA, Md. - As the Chiefs and Eagles gear up for Super Bowl XVII, there's a sobering reminder that players from both sides will put themselves at their highest risk for concussion all season.
Chris Carr, a former player for several NFL teams, including the Baltimore Ravens, now spends his time advocating for brain injuries.
Carr says over the years he has seen countless parents, coaches, and players ignore the signs.
Symptoms can range from apparent signs like nausea, lack of coordination, and dizziness to ringing in the ears, sudden mild depression, or simply just not feeling right.
It's not just professional athletes — it can happen to anyone, anytime, anywhere.
NFL plans to change its concussion policy
Here in America, every nine seconds someone suffers a brain injury.
"Sometimes, these symptoms don't present themselves until afterward," Carr said. "If they're feeling nauseous or having headaches or sensitive to light or if they're not responding to questions or responding more slowly, it might be something where you need to take your child to an emergency room or to see a doctor." 
"Unlike a torn ACL or torn rotator cuff where you know that's going to take months or a year for recovery, a brain injury can be the same thing," he added.
Two high-profile injuries this NFL season — Tua Tagovailoa and Damar Hamlin — have also brought more attention to the health of players.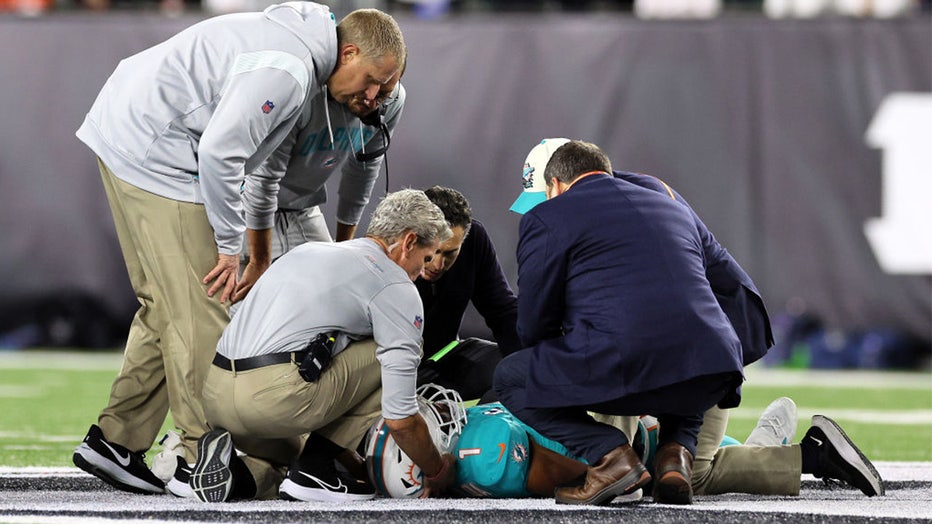 FILE - Medical staff tend to quarterback Tua Tagovailoa #1 of the Miami Dolphins after an injury during the 2nd quarter of the game against the Cincinnati Bengals at Paycor Stadium on Sept. 29, 2022, in Cincinnati, Ohio. (Andy Lyons/Getty Images)
Carr says while the "shake it off culture" of sports has improved significantly since his time playing ball, it's still very prevalent and could risk further damaging the brain.
"America is very gritty especially when it comes to sports," he said. "'Hey don't be soft. Go back in there. You're fine there's nothing wrong with you.'"
Damar Hamlin 'will play professional football again,' NFLPA medical director says
"I think that's really a bad attitude to have especially when it comes to youth sports because they're not going to have professional doctors right there to check you out to make sure your child is okay," Carr continued. 
When most people think of concussions, boxing and football come to mind.
But Carr says this might come as a surprise, youth girl's soccer actually produces more brain injuries every year than any other sport.