Nurses at 2 NYC hospitals return to work as deal ends strike
NEW YORK - Thousands of nurses at two New York City hospitals ended a three-day strike Thursday after reaching a tentative contract agreement that union officials said will relieve chronic short staffing and boost pay by 19% over three years.
Nurses began returning to work Thursday morning at Mount Sinai Hospital and Montefiore Medical Center. Each of the privately owned, nonprofit hospitals has over 1,000 beds and 3,500 or more union nurses, represented by the New York State Nurses Association.
Nurses are set to vote next week on ratifying the tentative deals, which union President Nancy Hagans called "truly groundbreaking."
"They set a new standard for safe staffing, for respect and for quality care for all," she said at a news conference.
Mount Sinai said its proposed agreement was "fair and reasonable, and it puts patients first." Montefiore, which agreed to hire 170 more nurses, said it worked to ensure nurses "have the best possible working environment, with significant wage and benefit enhancements."
"We know this strike impacted everyone — not just our nurses — and we were committed to coming to a resolution as soon as possible to minimize disruption to patient care," Montefiore said in a statement.
The walkout began early Monday and prompted the hospitals to postpone non-emergency surgeries, tell many ambulances to go elsewhere and transfer some patients, including some intensive-care infants at Mount Sinai. Temporary nurses and even administrators with clinical backgrounds were tapped to fill in, and some patients noticed longer waits and more sparsely staffed wards.
The union stressed staffing as a key concern, saying that nurses who labored through the grueling peak of the coronavirus pandemic are stretched far too thin because too many jobs are open. Nurses say they have had to work overtime, handle twice as many patients as they should, and skip meals and even bathroom breaks.
The hospitals said they have been grappling with a widespread nursing shortage that was exacerbated by the pandemic.
The agreements with the hospitals include concrete commitments to better staffing levels — and new provisions to enforce them, the union said. Hagans suggested that the enforcement provisions, which the union didn't immediately detail, had been a key factor in finally reaching a deal early Thursday.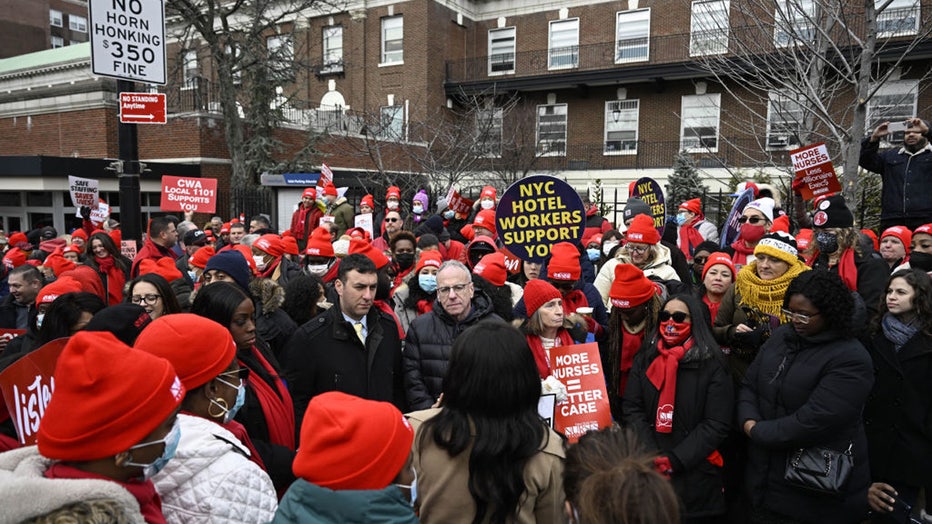 NEW YORK, US - JANUARY 11: Nurses at two of New York City's biggest hospitals are on the third day of their strike over contract negotiations on January 11, 2022. (Photo by Fatih Aktas/Anadolu Agency via Getty Images)
Gov. Kathy Hochul greeted returning nurses around dawn at Mount Sinai's Manhattan campus. Hochul, a Democrat, described the planned pay increases as well-deserved and said the tentative deal would foster "a working environment that allows them to focus on patient care."
At Montefiore, the provisional agreement includes renovating the emergency room and reopening some closed areas to end a longstanding problem of patients being treated on beds in hallways while waiting for space elsewhere in the Bronx facility, Hagans said.
"It was very important to our members that there were no more hallway patients," she said.
Several other private hospitals around the city reached deals with the union as the strike deadline loomed. Those agreements also included 19% raises over three years, an increase that Mount Sinai and Montefiore said they also offered before the strike.
According to the union, the average starting salary for one of its nurses statewide is currently about $50 an hour. No figures specific to Mount Sinai and Montefiore were immediately available.
Negotiations are ongoing without a strike at a couple of smaller private hospitals in the city. Hagans said she was confident a deal would come soon.