Storms among the most deadly natural disasters in modern history of California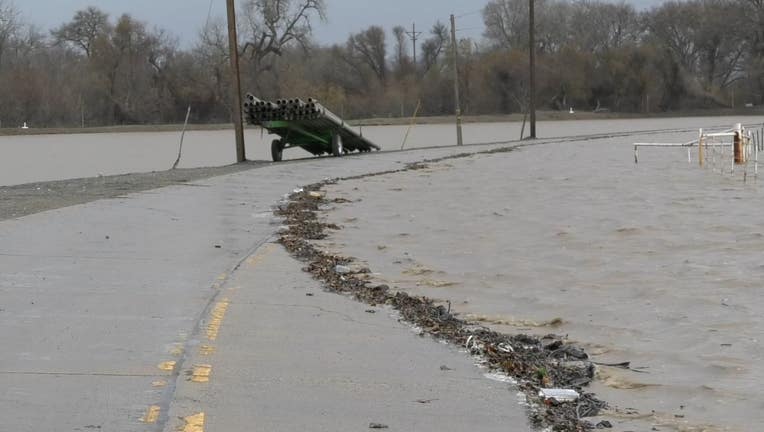 article
MATHER, Calif. - As the number evacuations in Monterey County grow because of the rising river, state and federal emergency officials are scrambling to help residents throughout storm-ravaged California.
An average of about nine inches of rain has fallen in 18 days. 
"These storms continue to be dangerous and not, excuse me, dynamic and pose a threat to communities throughout the state of California," said Nancy Ward, director of the California Governor's Office of Emergency Services said Friday. "These storms are among the most deadly natural disasters in the modern history of our state." 
And she ticked off the damage: Destructive flooding of homes, levee breaches, mudslides, hurricane force winds and a tornado touching down in Northern California. At least 20 people have died because of storm-related causes.  
As of Friday, 6,000 Californians were under evacuation order and another 20,000 people were without power. 
CalOES leaders joined officials with the Federal Emergency Management Agency, National Weather Service, the Department of Water Resources, the California National Guard, Caltrans and the California Highway Patrol at a joint news conference.
Monterey and Santa Cruz counties have been especially under siege. 
As of Friday, the Salinas River in Monterey County has risen three feet overnight, and river water is flooding nearby farmland. crews are worried that the water might also affect Highways 1 and 68 – basically the only two outlets to enter and exit the Monterey Peninsula. 
Last week, the piers and wharf in Santa Cruz County were heavily damaged in the rain and wind, which has been whipping through California since Dec. 27.  
And these regions "continue to be vulnerable to these next two three storm systems and to include the possibility of a complete cutoff of the Monterey Peninsula," Ward said. 
She added that the state has gotten emergency response resources, including the National Guard to the Santa Barbara area to assist in clearing debris and preparing for the next round of storms.
National Weather Service Director David Lawrence said the next storm is arriving on Friday, but the next big one will hit Saturday and Saturday night, which will bring widespread, heavy rainfall with heavy mountain snowfall and wind gusts up to 60 mph. 
"Not only could that rain produce additional flooding and certainly we'll see some major impacts to travel in the mountains," Lawrence said. "But those winds could also blow over trees and bring additional power outages going forward."
Lawrence said that another storm system or two could hit early next week before getting a break later next week. 
 
Hilltown Road near Highway 68 in Monterey County is closed where the Salinas River is overflowing with storm water. Jan. 13, 2023. Photo: AIO Filmz
Monterey County Sheriff Tina Nieto said residents must heed the emergency evacuation orders. 
"If you're in these areas, you need to be prepared," Nieto said. "The river rises slowly but also decreases slowly. So if you're in an area that becomes cut off because you haven't left – you're going to have to shelter in place for a few days." 
Nieto said that's happened once before in 1995.
But with the drought lasting so many years, many people who live here, don't consider how much the Salinas River can flood and overflow.
Though the river receded in the last 24 hours, another big storm is on the way for the weekend.
Agency officials said they were doing everything in their power to prepare.
Department of Water Resources Lead Deputy Director Cindy Messer said that the U.S. Army Corps of Engineers have been putting out sandbag plastic sheeting for levees and flood fighting experts and geological technicians have been called in to inspect and repair broken infrastructure. 
The good news is that the U.S. Drought Monitor's weekly update released on Thursday showed that "extreme" drought has been virtually eliminated a week after the worst category — "exceptional" — was washed off the map. Two weeks ago extreme drought covered 35% of California.
And in the Sierra Nevada and other mountains, the water content of the snowpack is more than 200% of normal to date and more than 100% of the April 1 average, when it is historically at its peak, according to the state Department of Water Resources.
KTVU's Lisa Fernandez, Brooks Jarosz and James Torres and the Associated Press contributed to this report.