FAA clears SpaceX to launch giant rocket from Texas
Minutes after the Federal Aviation Administration awarded SpaceX a launch license for its massive Starship spacecraft and Super Heavy rocket from a facility in Texas, the space company announced plans to launch the powerful rocket on Monday morning.
SpaceX had sought clearance for the rocket launch for nearly two years, but an extensive review and changes to the original application slowed down the federal approval process.
During its inaugural flight, which could take place as early as Monday at 8:00 a.m. ET, an empty 400-foot-tall spacecraft and rocket will be launched from SpaceX's facility near Brownsville, Texas.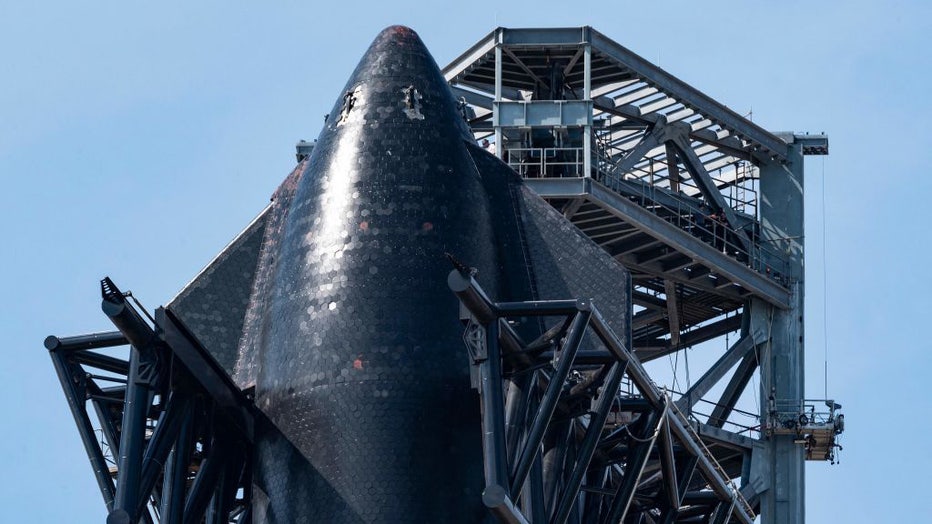 SpaceX's first orbital Starship SN20 is stacked atop its massive Super Heavy Booster 4 at the company's Starbase facility near Boca Chica Village in South Texas on February 10, 2022. - Elon Musk's SpaceX has reassembled the world's tallest rocket ahe
If the weather cooperates, a booster rocket is expected to splash down over the Gulf of Mexico, and the spacecraft will circle the globe and land in the Pacific Ocean near Hawaii.
The space company anticipates the rocket will take about 90 minutes to reach its orbit and splashdown in the Pacific.
20 YEARS AFTER COLUMBIA NASA REMEMBERS ASTRONAUTS LOST, VOWS NOT TO REPEAT PAST MISTAKES 
"To date, the SpaceX team has completed multiple sub-orbital flight tests of Starship's upper stage from Starbase, successfully demonstrating an unprecedented approach to controlled flight. These flight tests helped validate the vehicle's design, proving Starship can fly through the subsonic phase of entry before re-lighting its engines and flipping itself to a vertical configuration for landing. In addition to the testing of Starship's upper stage, the team has conducted numerous tests of the Super Heavy rocket, which include the increasingly complex static fires that led to a full-duration 31 Raptor engine test – the largest number of simultaneous rocket engine ignitions in history," SpaceX posted in a launch announcement.
Under the approval, the FAA will have at least one inspector present for the launch, and the company will be required to report any pre-flight anomalies to the agency.
NASA UNVEILS ARTEMIS II ASTRONAUTS WHO WILL EMBARK ON HISTORIC MISSION AROUND THE MOON
If the orbital test flight is a success, it could pave the way for the company to eventually replace the Falcon 9 and Falcon Heavy rockets with the Starship spacecraft and Super Heavy rocket.
Both the spaceship and booster are reusable and were designed for deep space exploration to the moon and Mars.