Some Commanders players struggle with offensive coordinator Eric Bieniemy's intensity
WASHINGTON - Some Washington Commanders players are struggling to adjust to new offensive coordinator Eric Bieniemy's intensity at practice.
At a press conference Tuesday, Commanders head coach Ron Rivera addressed the change in coaching style and said some on the team are having problems adapting.
"And one of the biggest things is -- I had a number of guys come to me and I said, 'Hey, just go talk to him.' I said, 'Understand what he's trying to get across to you.' I think as they go and they talk and they listen to him, it's been enlightening for a lot of these guys," Rivera said at a press conference.
"I mean, it's a whole different approach. Again, you're getting a different kind of player from the players back in the past, especially in light of how things are coming out of college football. So a lot of these young guys, they do struggle with certain things and a lot of it ... is from where they've been. I mean, guys coming from certain programs are used to it. Guys coming from other programs aren't as much," Rivera continued
"So, us as a coach, I kind of have to assimilate and get a feel for everybody. Eric has an approach and it's the way he does things and it's not going to change because he believes in it."
"Well first of all, one thing I am, I'm an open book and I always invite players in, but also too, as I've gone through this process, yes, I am intense," Bieniemy said later Tuesday following Rivera statements.
"One thing they do appreciate is this: I'm always going to be upfront and I'm always going to be honest. Just like I stated when I first got here: We've all got to get uncomfortable to get comfortable. There's some new demands and expectations that I expect. I expect us to be the team that we're supposed to be. It's not gonna be easy, and everybody ain't gonna like the process. But when it's all said and done with, my job is to make sure that we're doing it the right way," Bieniemy continued.
Bieniemy took over as offensive coordinator and assistant head coach earlier this year. The 54-year-old is a two-time Super Bowl-winning assistant with the Kansas City Chiefs.
Washington has not appeared in a conference championship game since winning a third Super Bowl in a 10-year period in the 1991 season. That same season, Bieniemy began his nine-year playing career in the NFL as a rookie running back for the San Diego Chargers.
The Associated Press contributed to this report.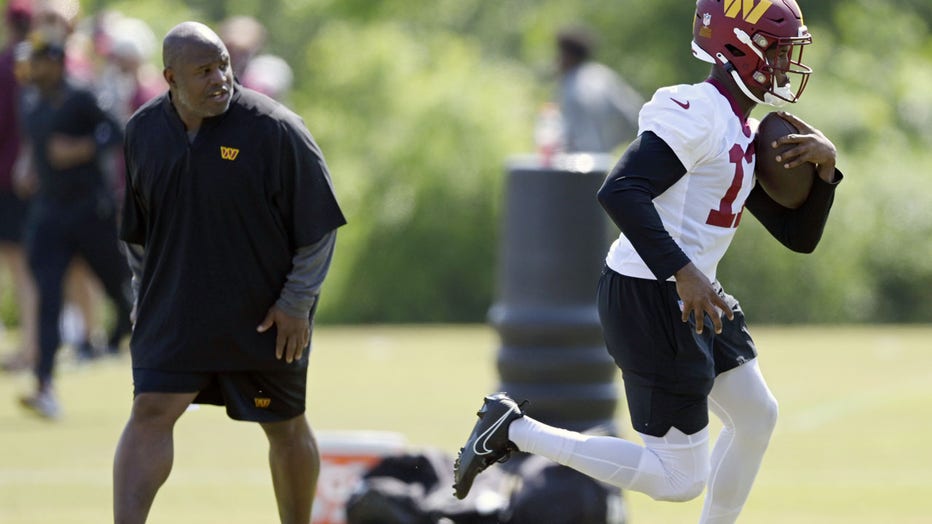 Washington Commanders offensive coordinator Eric Bieniemy, left, observes wide receiver Terry McLaurin (17) during a Washington Commanders OTA session at Commanders Park on May 31, 2023 in Ashburn, VA. (Photo by John McDonnell/The Washington Post via