Sign of the times: Richmond Highway sign replaces Jefferson Davis in Arlington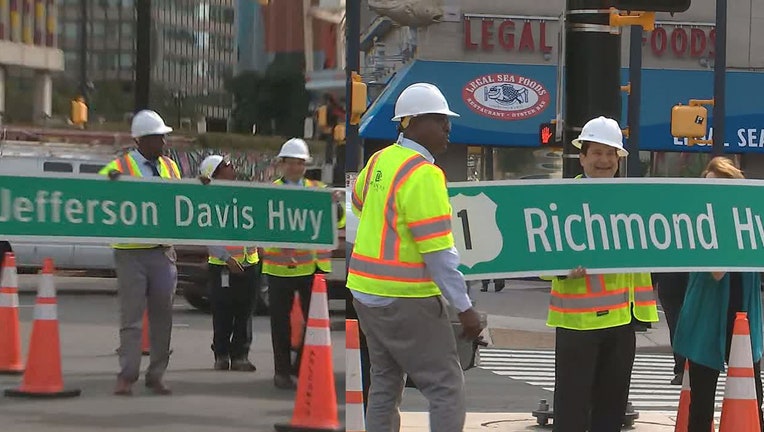 ARLINGTON, Va. - It's official – Jefferson Davis Highway is now Richmond Highway in Arlington.
The Richmond Highway sign went up during a Thursday ceremony at the intersection with 23rd Street South on Thursday.
The officials took time out to bend the old sign in two in an effort to make a clean break with the past.
The change comes after the Commonwealth Transportation Board voted in the Spring to replace the name of the highway named after Jefferson Davis, the president of the Confederate States of America, but it took a legal opinion from Attorney General Mark Herring, (D)-Virginia.
Del. Mark Levine, (D)-Alexandria, tells FOX 5 he was approached by constituents several years ago who were upset by Davis being honored with the highway name.
Levine approached Herring with a legal argument that would allow counties to change state highway names without approval by the General Assembly.
"For my constituents, it's a way to say Arlington today is not the Arlington of 100 years ago. This is a county that welcomes people, that welcomes our diverse population. It does not support the person who fought for slavery," said Levine.
Alexandria changed its portion of the highway to Richmond Highway in January.