Search continues for missing Silver Spring woman more than a year after her disappearance
SILVER SPRING, Md. (FOX 5 DC) - It's a missing persons case that's left investigators baffled more than a year later.
Brenda Hopkins, 69, vanished from her home in Silver Spring where she lived with her sister, and police say they have developed few leads or clues.
It's a case that hasn't garnered much media attention, and FOX 5 found even some of Brenda's neighbors hadn't heard she was gone.
Brenda lived for years with her younger sister, Michelle, in White Oak. Michelle says, a year later, she hasn't gotten any closer to the truth about what happened to Brenda.
"Depressed, sad of course," said Michelle of how she's feeling. "Wondering where, what, who, how. What she's doing."
When asked if she believes her sister is still alive, Michelle replied, "My heart says she is."
Michelle says on August 8, 2018, her sister left home without any of her belongings and walked to the nearby Giant on New Hampshire Ave. for cigarettes.
"I was getting in the shower and she said, 'I'm going to buy cigarettes,'" Michelle said.
She says Brenda never came home. But police say they haven't found any evidence of that trip to the store.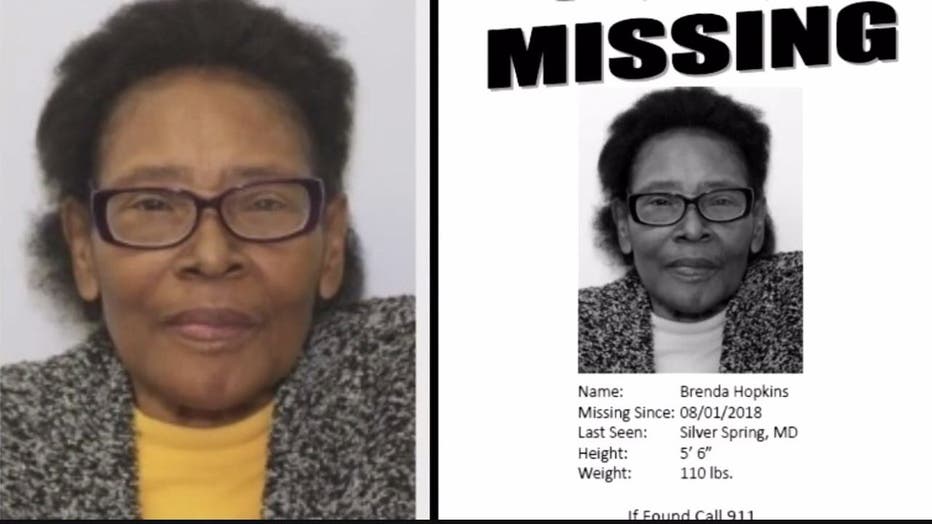 "We've had a lot of issues trying to establish a clear and concise timeline with Michelle," said Montgomery Co. Police Det. Katie Leggett. "It's really hindered the investigation greatly because she was really the only that was in regular contact with Brenda."
Leggett says investigators have struggled to get to a good read on what's going on.
She says she's "not confident at all" that Brenda actually went missing August 8. Police say the last time they are sure Brenda was seen alive was at a funeral on July 12.
When asked about inconsistencies, Michelle blamed "emotional attachment."
While Michelle says Brenda was healthy when she went missing, other family members tell FOX 5 that Brenda, a former tax attorney, was dealing with memory loss, something that runs in the family.
Police say they've taken search dogs in and around Brenda's home and throughout her neighborhood, but come up with nothing.
Leggett says there's something else that hindered this investigation. She was supposed to get the case 72 hours after it was reported to district investigators, but she didn't get it for two weeks.