Record number of Americans are paying $1000 a month or more for monthly car payments, data shows
LOS ANGELES - Buying a car has become a costly venture in 2022 with a growing number of Americans paying four figures each month, new data finds. 
According to the automotive research company Edmunds, consumers who purchase a car today are at risk of going underwater on car loans down the road as financing costs rise and used car values decline. 
The company's analysis shows the average annual percentage rate (APR) on newly financed vehicles climbed to 6.5% in the last quarter of 2022 compared to 4.1% in the last quarter of 2021. Meanwhile, the APR on used financed vehicles climbed to 10% in the fourth quarter of 2022 compared to 7.4% in 2021.
In addition, a greater share of drivers are committed to monthly payments of $1,000 or more. More than 15% of consumers who financed a new vehicle in the last quarter of 2022 committed to a four-figure payment — the highest it's ever been — compared to 10.5% in the final quarter of 2021 and 6.7% in 2020. For those who financed a used vehicle, a record 5.4% of people committed to $1,000 or more monthly — also a record high — compared to 3.9% during the same time period in 2021 and 1.5% in 2020.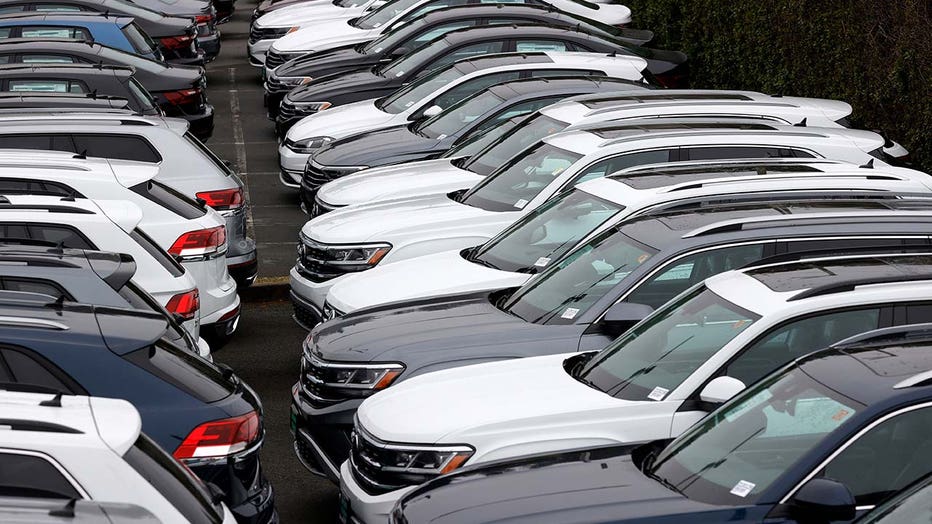 Brand new Volkswagen cars are displayed on the sales lot at Serramonte Volkswagen on May 14, 2021 in Colma, California. New cars are becoming hard to find and the prices have surged as dealerships are having trouble with inventory due to the global c
"Just as new and used car prices finally started to cool off in Q4, rapidly rising interest rates created an even greater barrier to entry for consumers who rely on financing — which is the vast majority of car shoppers," said Ivan Drury, Edmunds' director of insights. "Although the last quarter of the year typically skews toward luxury vehicle purchases, this near-record percentage of vehicles that are being purchased rather than leased reflect tougher market conditions far more than affluent consumers shelling out a bit more than usual to treat themselves over the holiday season."
Rising interest rates on cars
Due to rising interest rates, Edmunds says consumers are putting more money down on their purchases to offset rising costs. The average down payment for new and used vehicles hit record highs in 2022, climbing to $6,780 and $3,921, respectively.
Experts say consumers shouldn't expect prices to fall anywhere near where they were before the pandemic recession struck in early 2020. The swift recovery from the recession left automakers short of parts and vehicles to meet demand. Price skyrocketed, and they've scarcely budged since, with prices on new and used vehicles remaining 30% to 50% above where they were when the pandemic erupted. 
RELATED: Most electric vehicles won't qualify for tax credits under new Inflation Reduction Act
"As we shifted toward an environment with diminished used car values and rising interest rates over the past few months, consumers have become less insulated from those riskier loan decisions, and we are only seeing the tip of the negative equity iceberg," Drury continued. 
RELATED: Prices on new, used vehicles finally begin to creep down from inflated highs
Edmunds analysts caution that the combination of costlier vehicle financing and cooling used car values could spell trouble for some consumers down the road if they do not budget or plan accordingly. 
Yet high prices are yielding substantial profits for most automakers despite sluggish sales. In October, for example, General Motors reported that its third-quarter net profit jumped more than 36%, thanks in part to sales of pricey pickup trucks and large SUVs.
FOX 2 Detroit contributed to this story.