President Biden visits Virginia to tout economic achievements
WASHINGTON - Virginia took center stage on Thursday, as President Joe Biden was in Springfield to tout what he says is good news on the economy.
According to new data released on Thursday morning, the economy grew 2.9 percent, the unemployment rate is at a 50-year low, and job growth is at its strongest rate ever.
Despite the good news, consumers say they are not feeling any good news when they look at their grocery bills.
During his appearance in Springfield, President Biden told the audience that he acknowledges there is still work to do, but pointed to the progress his administration has made.
"Jobs are at the highest in American history! Wages are up, and they are growing faster than inflation. Over the past six months inflation has gone down every month and god willing we will continue to do that," said President Biden. "Look we've got a lot to do. We've achieved because of all of you in this room and other rooms around the country, but I want to look ahead at what is to come and what we are going to be doing."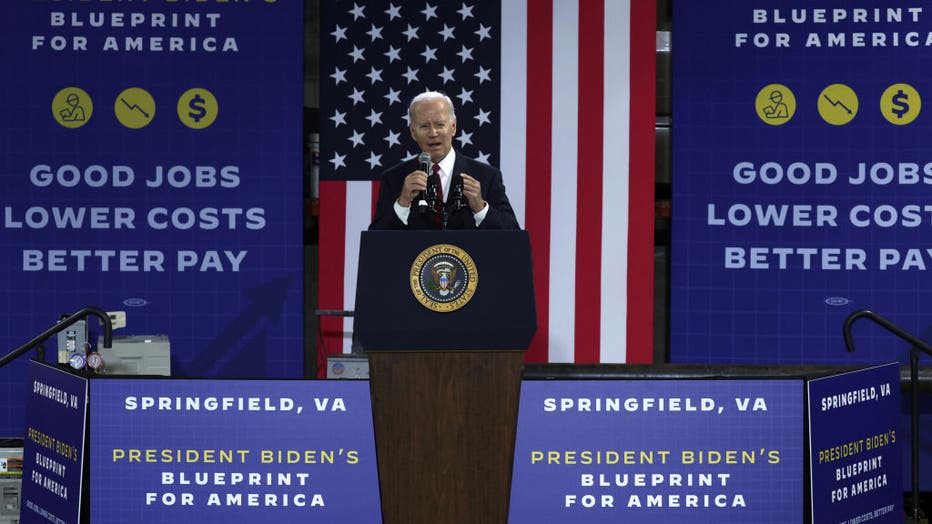 SPRINGFIELD, VIRGINIA - JANUARY 26: U.S. President Joe Biden delivers remarks on the U.S. economy at Steamfitters Local 602 on January 26, 2023 in Springfield, Virginia. President Biden made comments on the economic proposals by Republican lawmakers
FOX 5 spoke with consumers to see how they felt about the President touting the economic accomplishments.
"Oh we will see when I go in there to see how much the cost of eggs. Eggs are astronomical! Very costly!" said one person.
Another added, "I used to use $20 for something and now when I go it's like 22 or 25 for all the stuff, so it's still high!"
In response to the President's appearance in Springfield, Virginia Governor Glenn Youngkin released the following statement:
Failed policies from the Biden administration have created a challenging national economic environment and as a result Virginians have suffered the economic burden at the gas pump, at the grocery store, and when paying their rent.
READ MORE: U.S. economy showed solid growth, but slowdown expected in coming months
The President will be in Baltimore next week to highlight his infrastructure law.
The stops are part of the run-up to the State of the Union speech on February 7.