Open carry display at Old Town Alexandria farmer's market triggers outrage
ALEXANDRIA, Va. (FOX 5 DC) - The debate over open carry laws in this age of heightened awareness about guns in public spaces is heating up.
On Saturday, a group of individuals from the gun advocacy group "The Right to Bear Arms Richmond" came to a local farmer's market in Old Town Alexandria.
They were all armed with rifles and handguns. The weapons were not concealed, however, the men were not violating the law.
Virginia is an open carry state which allows for people like Brandon Howard to walk around with his gun without any fear of prosecution.
"This is what it's all about," said Howard. "Educating people and exercising our constitutional right without fear to do so. There is no right if you have to be fearful to exercise your right to do so."
Howard and the rest of the group notified the police before their demonstration. Nevertheless, people were still startled.
"Yeah, I was afraid. You don't know what they were going to do. You don't know if they were insane or out of their mind," said one upset Alexandria community member.
Others feel what the group was doing was well within their rights.
"I rather keep the right than have the right taken away. They keep taking rights away soon we won't have any," said another community member.
City leaders say there's a legislative package that includes requests to the general assembly for what the city feels are common-sense gun regulations.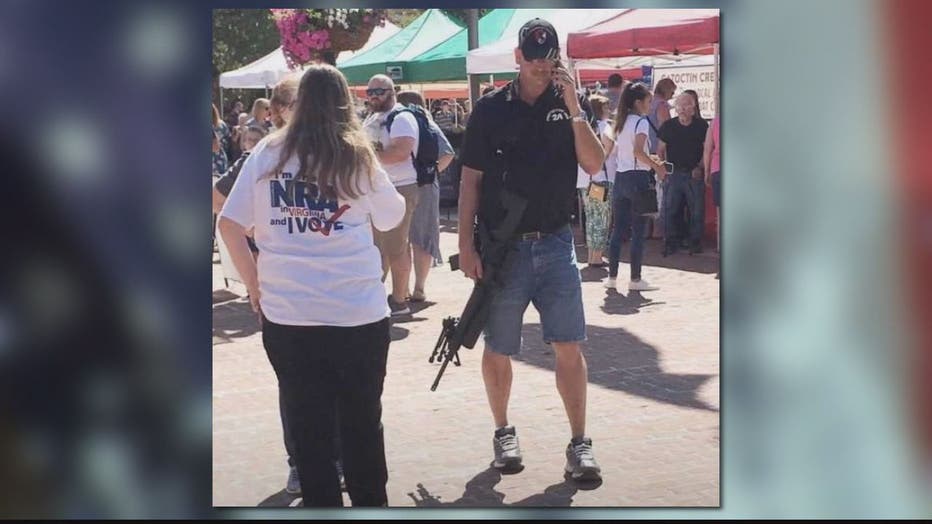 (The Right to Bear Arms Richmond)