Nearly 300 vehicles illegally stopped in dedicated bus lanes in DC, according to volunteers
WASHINGTON (FOX 5 DC) - It's been more than two months since D.C. rolled out dedicated downtown bus lanes as part of a pilot program, but dozens of bus riders say the new rules aren't always being followed.
"I did notice that sometimes there's cars in the lanes, sometimes there's delivery trucks, and I wondered how can we sort of capture that information so we can use it to improve the bus lanes," explained Rebecca Watson, who came up with an idea that was put into action Wednesday.
More than 30 volunteers fanned out near the red bus lanes on I and H streets downtown and counted all of the vehicles illegally stopped in the lanes, which are in effect from 7 a.m. to 9:30 a.m. and from 4 p.m. to 6:30 p.m. Altogether nearly 300 vehicles were logged.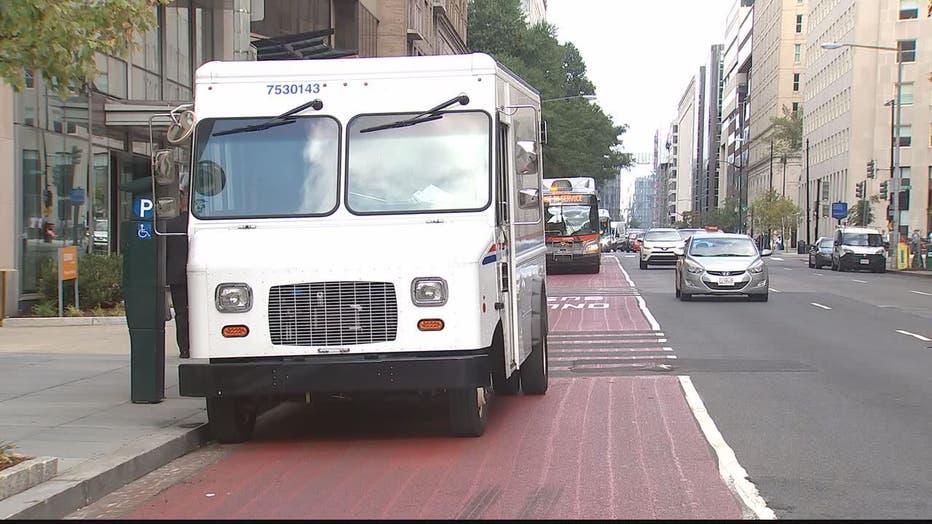 "If a vehicle stops in those bus lanes, the bus then has to go out of the bus lane, slowing the bus down and obviously creating a little bit of a dangerous situation as well. So that slows the bus down, makes the busses late, bus service becomes unreliable and then people don't ride the bus, more cars. It's a vicious cycle," said organizer Mark Sussman, who added that the group is in favor of the bus lanes, they just want to find a way to improve them.
A District Department of Transportation spokesperson said the agency is still evaluating the pilot program and is working to figure out what will come next. The spokesperson added that improving bus service in D.C. is a top DDOT priority.