Nazi flag seen at Frederick school; superintendent promises 'appropriate action'
FREDERICK, Md. - An investigation is underway after neighbors saw a Nazi flag hanging at Governor Thomas Johnson High School.  
Superintendent Theresa R. Alban says the school district will "take appropriate action" Monday in light of the incident. A viewer sent Fox 5 a photo of the flag, which shows a Swastika, on Saturday.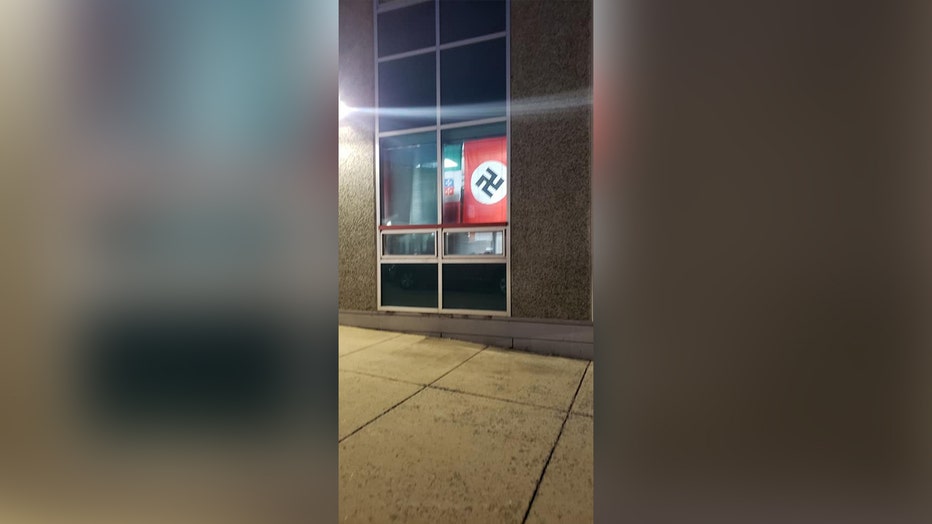 The superintendent of Frederick County Public Schools says a Nazi flag seen hanging from Governor Thomas Johnson H.S. "does not reflect the values of our school system."
"The flag was removed as soon as our administrators were made aware. An apology was sent to the community," Alban said in a statement to Fox 5. "This does not reflect the values of our school system."
Alban's public apology referenced a Nazi flag "used in the (school's) World War II history class" that "was left hanging in the classroom and was clearly visible in the window."
"FCPS sincerely apologizes to our community for this incident as we share your feelings regarding the hatred and intolerance message this flag represents," Alban wrote. "We understand the seriousness of this matter and care deeply for our community immediate recovery and belief in FCPS as a school system, which celebrates diversity."
School officials say they discovered the flag hanging from the window during a boys' basketball game this weekend between Thomas Johnson and Frederick high schools. 
TAKE THE FOX 5 INSTAPOLL: Is it OK for a teacher to display a Nazi flag as part of a lesson about World War II?
The flag is the latest alleged neo-Nazi incident in the area.
A Vienna man was charged last month with calling in a bomb threat to the historic black Alfred Street Baptist Church in Alexandria, while three suspected white supremacists were charged with attempting to bring a homemade assault rifle and more than 1,500 rounds of ammunition to a contentious pro-gun rally in Richmond.
RELATED STORIES:
Virginia man charged in connection with neo-Nazi online swatting conspiracy that targeted historic church
Maryland neo-Nazis accused of discussing bringing firearms to pro-gun rally in Virginia