Montgomery County suspends Assistant Police Chief Carmen Facciolo
ROCKVILLE, Md. - Carmen Facciolo, the Assistant Chief for the Montgomery County Police Department, has been suspended with pay, according to a county Spokesperson.
Download the FOX 5 DC News App for Local Breaking News and Weather
Facciolo was Montgomery County's first civilian assistant police chief. He was appointed by County Executive Elrich in June 2021 and was formally confirmed by the council.
Police Chief Marcus Jones informed his department of the suspension earlier this week but did not provide any details as to why. The Chief would not provide a comment to FOX 5, saying he could not because it is a personnel matter.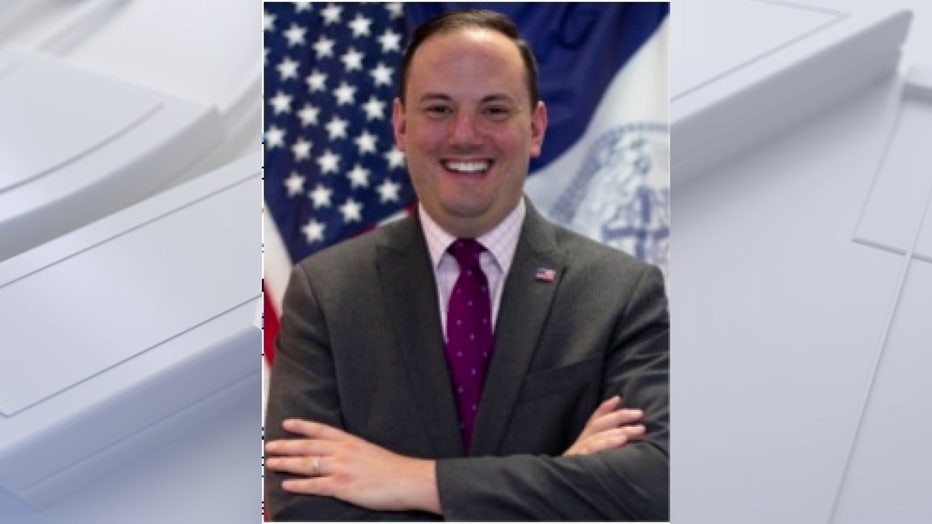 Following FOX 5's report, Chief Jones responded saying the suspension was not due to the cardiac arrest call - but due to "other personal matters that are being investigated."
Sources described multiple issues with Facciolo's actions while on the Montgomery County Police Department but tell FOX 5 one of the most recent issues was a potentially problematic response to a cardiac arrest emergency call the civilian assistant chief involved himself in last week.
Those sources told FOX 5 the department is looking into whether Facciolo may have acted inappropriately both during and after that emergency call.
Looking into the emergency call, FOX 5 learned the Montgomery County Fire Department also responded to this emergency. A fire official told FOX 5 the cardiac arrest incident happened last Thursday, June 2. The call was believed to be for someone suffering a heart attack at the Connecticut Ave. senior living facility called the Five Star Senior Premier Residences of Chevy Chase.
A fire official said it is not uncommon for police to join fire on emergency calls.
Sources tell FOX 5 among several allegations made into Facciolo's actions that day, is a claim that after joining the call, he directed a crew to stop working on patient so he could do so. There's also a claim he may have asked someone to take his photo while performing the work. Sources also noted issues with what happened after Facciolo left the call.
Chief Marcus Jones emailed his department earlier this week to inform the department of the change of command from the suspension. He did not offer his members any specifics on what happened.
A Montgomery County Police Spokesperson confirmed on Wednesday afternoon, Facciolo was in fact at that Connecticut Avenue emergency call.
During a Wednesday virtual briefing, Montgomery County Executive Marc Elrich told reporters he was legally barred from answering questions about the investigation into his hire.
"That's why you do investigations. You know, you don't convict people before there's --- before you find out what's going on …," the County Executive told FOX 5 after repeated questions. When asked whether he has a response to any concerns to his response, the County Executive said, "No I think people in the community know that certain things are personnel matters. If it becomes something other than that, there'll be other responses. But it's a personnel matter right now."
A spokesperson with the senior living facility was not aware of the call or allegations until FOX 5 asked. They are looking into the matter and confirmed a family member had called 911 on behalf of the patient.
FOX 5 has worked with Facciolo in the past, in his role as a more of a community liaison. He was also leading the former School Resource Officer program, also known as Community Engagement Officers.
The County Executive did confirm he was briefed on the matter Wednesday morning by Chief Jones.
Asked along the lines of why a policy advisor with no formal training as a police officer was qualified for an assistant chief position that carries a certain weight and power with the police department, Elrich responded, "because it was mean to be a civilian chief. We were not looking for another police officer to be another police chief, it comes down to that simple…"
FOX 5 also asked whether the position requires any CPR or associated training. Elrich responded he could not answer this and that it would likely be part of the investigation.
The Montgomery County Police Union President told FOX 5 they have little interaction with Facciolo. FOP Lodge 35 President Lee Holland also confirmed for FOX 5 state law does not require police executives to be CPR certified or attend the same training as rank-and-file officers.
SUBSCRIBE TO FOX 5 DC ON YOUTUBE
In relation to the emergency call, it is not known what emergency response training Facciolo has. It is also not clear whether any laws were broken but the police department is investigating whether there were any ethics violations during his time with the department.