Montgomery County Public Schools open Monday despite online posts suggesting closures due to coronavirus, officials say
ROCKVILLE, Md. (FOX 5 DC) - Montgomery County Public Schools are open on Monday despite fake online posts that suggest the district's facilities have been closed due to coronavirus concerns, officials say.
The Sunday message is part of the county's ongoing efforts to fight misinformation and inaccurate rumors being spread about the schools, students and teachers in connection with news that a Montgomery County resident who tested positive for Coronavirus had visited a Rockville retirement community called, "The Village at Rockville."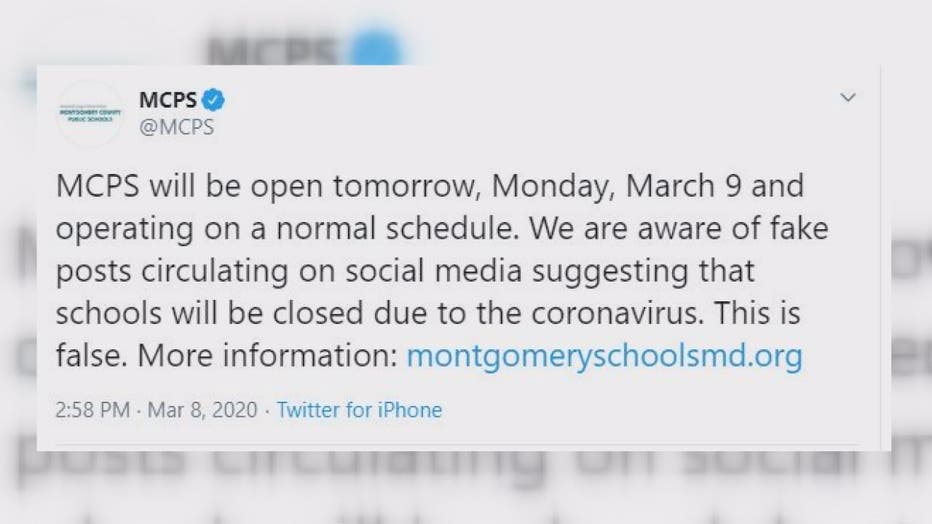 Download the FOX 5 DC News App for Local Breaking News and Weather
MCPS posted the following message on its website on Sunday:
"Montgomery County Public Schools (MCPS) will be open tomorrow, Monday, March 9, and operating on a normal schedule. We are aware of fake posts circulating on social media suggesting that schools will be closed due to the coronavirus. This is false. Any information about school closures or updates relating to the coronavirus will come directly from County health officials and the district and will be posted on the official MCPS website. The health and safety of our schools, students and staff remains our top priority."
FOX 5's Complete Coverage of the Coronavirus Outbreak
By Monday, FOX 5 learned that in addition to false posts and information on school closings, someone had falsely identified a 15-year-old of contracting coronavirus. There were also accusations made that teachers who attended the same February 28 event at the retirement community as the coronavirus patient, were being told they still had to report to MCPS on Monday.
 "Even in the span of the 48-hours since the first cases were announced, we've had to comb through and triage a number of rumors from kids in schools having it, to teachers having it to the cases being involved in schools and none of that information is incorrect," said Montgomery County Chief Health Officer Dr. Travis Gayles, who added: "trust and believe if we do get any information to change the course, we will do so quickly and because of that, we have been working very closely with the school system to come up with contingency plans to be ready to go, should we need to execute those actions."
As Dr. Gayles implored community members to look to the county and trusted sources for information, an MCPS spokesperson told FOX 5 they specifically checked with three schools involved in the teacher accusations, and that MCPS has not heard anything to indicate that staff at the schools were at the Feb. 28th event. 
FOX 5 learned this event was a Shiva, a Jewish gathering to mourn someone lost. MCPS says it had learned students from Thomas S. Wootton High School and Robert Frost Middle School had volunteered at the retirement community in the day after the Feb. 28th event. No students were believed to have been there on the same day as the Shiva. 
Dr. Gayles affirmed on Monday the students who were there days after were not at risk for Coronavirus exposure. The facility immediately said risk was low, according to state health officials. 
Gayles explained that if someone with the virus was in close contact – talking with someone as he was with a FOX 5 Reporter and Photographer at the time, then both the Reporter and Photographer would need to contact a doctor. The person on the other side of a large room or building would likely not be impacted, Dr. Gayles explained. 
The county's top doctor also 
With now four confirmed coronavirus cases in Montgomery County, there is anxiety within the community. One Thomas S. Wootton HS parent who asked not to be identified told FOX 5 they were shocked to learn the first three Maryland cases were so close to home. 
"It's unsettling. My child is a senior here and um, just sending her to school is always, you know I'm wondering if she's wiping down the desk," the parent said. 
Another, who identified herself as the parent of an MCPS teacher, voiced concern about making sure the schools are taking the proper safety precautions for staff as well. 
"It is serious, but I don't think that they need to close the schools, washing your hands is the best thing you can do,' Fawn Heckman told FOX 5.
An MCPS spokesperson says any students found to have created fake posts or social media accounts to spread fake Coronavirus information could face consequences aligned with their Student Code of Conduct.
The directive from county health and school leaders is: regardless of potential Coronavirus exposure, anyone exhibiting symptoms should immediately contact their health care provider or the Montgomery County Department of Disease Control and Epidemiology at: (270) 777-1755. The Maryland Department of Health Infectious Disease Bureau can also be contacted at: (410) 767-6700.