Montana woman gives birth to identical triplets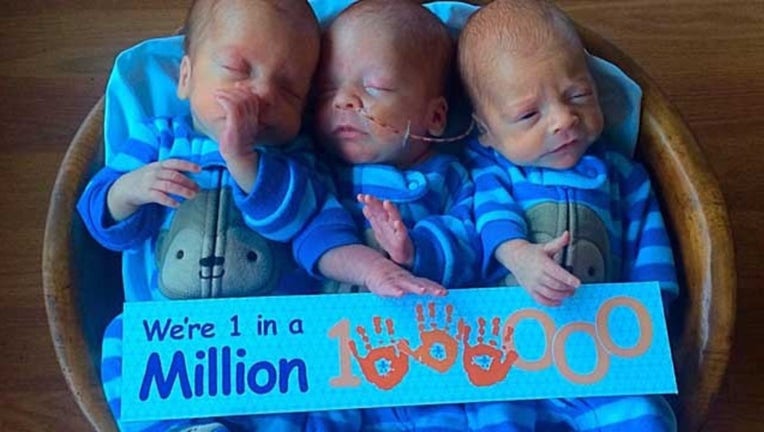 A Montana woman gave birth to a set of identical triplet boys in early December, a rare occurrence— especially without the aid of fertility drugs, reported the Billings Gazette.
Jase and Jody Kinsey of Miles City, Montana, welcomed their boys—identical spontaneous triplets— on Dec.5. Identical spontaneous triplets occur after one egg is fertilized and divides into two, creating identical twins. If the embryo splits again, identical triplets occur.
"To have a patient with spontaneous identical triplets is incredibly rare," about one in a million and the first he'd seen in his practice, Jody's doctor, Dr. Dana Damron, maternal fetal medicine physician at Billings Clinic told the Billings Gazette.
Identical triplets are more common if fertility drugs are used, but still rare.
Damron's main concern was that each triplet was growing equally and symmetrically.
"Having to deliver early is another one of our greatest fears and worries," he told the newspaper. Jody, 30, saw him every four weeks. In September, she stopped working and in November was admitted to the clinic after early signs of labor began to appear.
The triplets were delivered just before the 32 week mark. According to Damron, the average gestational age for triplets is 32 to 33 weeks.
The three were born in "excellent condition," Damron told the Billings Gazette. The first, Cade, weighed 3 pounds, 13 ounces; Ian came next at 3 pounds, 11 ounces; and Milo was born last at 4 pounds, 1 ounce.
The boys join their big brother, 6-year-old Jax. Parents Jase, 29, and Jody met in high school and have been married for nine years. Jase's father was a twin, the Billings Gazette reported.
"It's going to be interesting," Jase told the Billings Gazette. "I think it will be a blast, though, I can't wait."
"I'm sure it's going to be tough, especially when they get old enough to understand that people can't tell them apart," Jody told the Billings Gazette.
Click for more from the Billings Gazette.
READ MORE: http://www.foxnews.com/health/2015/01/12/montana-woman-gives-birth-to-identical-triplets/?intcmp=ob_homepage_health&intcmp=obnetwork