Mom quits smoking after daughter writes A paper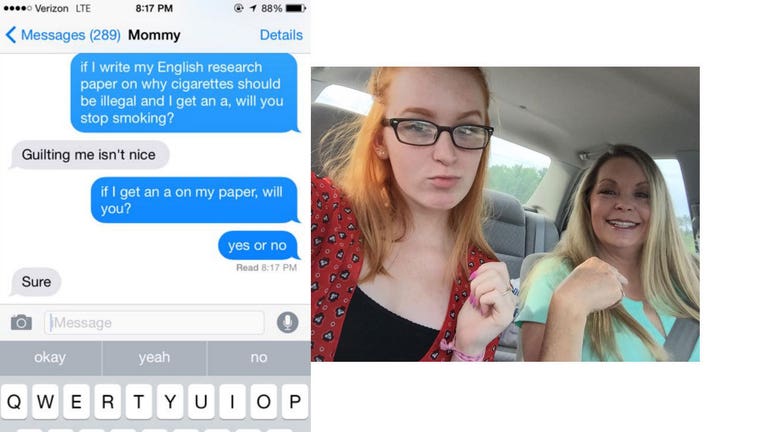 article
NEW YORK (FOX5NY) - A Virginia mother has kept her promise to quit smoking if her daughter got an A on an Honors English class research paper. The subject of the paper: Why cigarettes should be illegal.
Amanda Wimmer had smoked for 35 years. A year ago, her 15-year-old daughter Sarah asked her via a text message if she would agree to quit smoking if she got an A.
Her initial response was "Guilting me isn't nice" but when pressed she replied "sure."
Sarah Wimmer said: "For 15 years I lived with the constant smoke smell burning my nose, always having to roll the windows down even in the freezing winters and pouring rains, always having to stop at the closest gas station to get a pack or two as I watched her throw her money away to one of the nations top killers, we couldn't have a solid mother/daughter movie night without having to pause the movie at least once for her to smoke for 10 minutes, and just so many other things. I knew I wanted to write about this topic because I knew firsthand how destructive cigarettes are to not only the smokers, but those closest to them."
Well, sure enough, her daughter got an A on the paper and Amanda Wimmer quit smoking. Now, in a few weeks, it will be a full year since she has had a cigarette.
She even saved all of the money she had been spending on cigarettes and took her husband on a week long trip to St. Croix.
If you would like to read Sarah's paper, click here.