Michael Jordan's famous 'flu game' sneakers projected to fetch over $3M at auction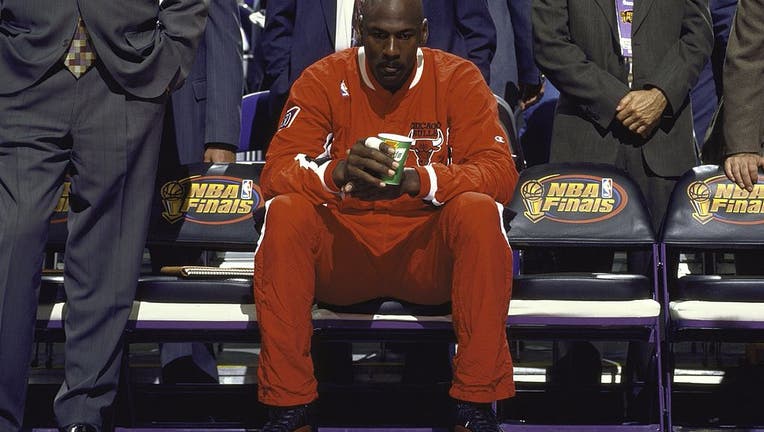 article
A pair of sneakers worn by NBA legend Michael Jordan during one of his most iconic games could become the most valuable sneakers ever sold at auction.
Jordan wore the black and red Nike Air Jordan 12s during 1997's miraculous "flu game," where he led the Chicago Bulls to a stunning game 5 win over the Utah Jazz in the NBA Finals despite being severely ill.
Now the autographed shoes are on the auction block for the first time in 10 years and are expected to fetch over $3 million, according to Goldin Auctions founder Ken Goldin.
"These, simply put, are the single most valuable pair of sneakers that exist in the world. The single most famous, single most popular," Goldin told "Varney & Co." Friday, gingerly displaying the sneakers on set.
The ailing Jordan managed to nab 38 points, 7 rebounds, 5 assists, 3 steals and 1 block in the triumphant performance, giving the Bulls a 90-88 win and a 3-2 lead in the series. The win ultimately set the stage for the team's 5th NBA Championship.
The shoe price stood at $1,050,000 on Friday afternoon with bidding open until June 14.
Another pair of Jordan's sneakers sold for a record $2.2 million in April in an auction by Sotheby's. The Nike Air Jordan 13 "Last Dance" shoes were worn in the 1998 NBA Finals during Jordan's final year with the Chicago Bulls.
Jordan's shoe game recently made headlines with the release of the movie "Air" – a feature film about Nike and Jordan's monumental partnership in 1984. 
The Ben Affleck-directed "Air" was described by Amazon Studios as a captivating showing of the "unbelievable game-changing partnership between a then rookie Michael Jordan and Nike's fledgling basketball division which revolutionized the world of sports and contemporary culture with the Air Jordan brand." 
The original Nike-Jordan deal at the center of the movie took place in 1984. It spanned five years and was worth a total of $2.5 million, FOX Business previously reported.
Bidding for the "flu game" shoes closes at 9 p.m. on the 14th, where one lucky collector will be able to get their hands on the priceless sneakers in the opportunity of a lifetime.
GET UPDATES ON THIS STORY AT FOXBUSINESS.COM