Metro closes more stations as DC security perimeter tightens ahead of inauguration
WASHINGTON (FOX 5 DC) - Metrorail has closed 11 stations as security measures grow in the nation's capital ahead of Inauguration Day.
The transportation agency also announced Friday that Metro is advising customers that bus and rail service will be temporarily suspended to the Pentagon on January 20.
EVERYTHING YOU NEED TO KNOW ABOUT INAUGURATION DAY IN DC
Blue and Yellow Line trains will continue to operate but will pass through the station without stopping, according to Metro.
The Pentagon Transit Center, which is served by six Metrobus lines, will also be closed. Buses will be relocated instead to Pentagon City for the day.  
Meanwhile, beginning Friday through Thursday, January 21, trains will pass through the following stations without stopping:
- Farragut North
- Judiciary Square
- Union Station
- Archives
- Arlington Cemetery
- Farragut West
- McPherson Square
- Federal Center SW
- Capitol South
- Smithsonian
- Federal Triangle
MORE INFO: Inauguration Service Information 2021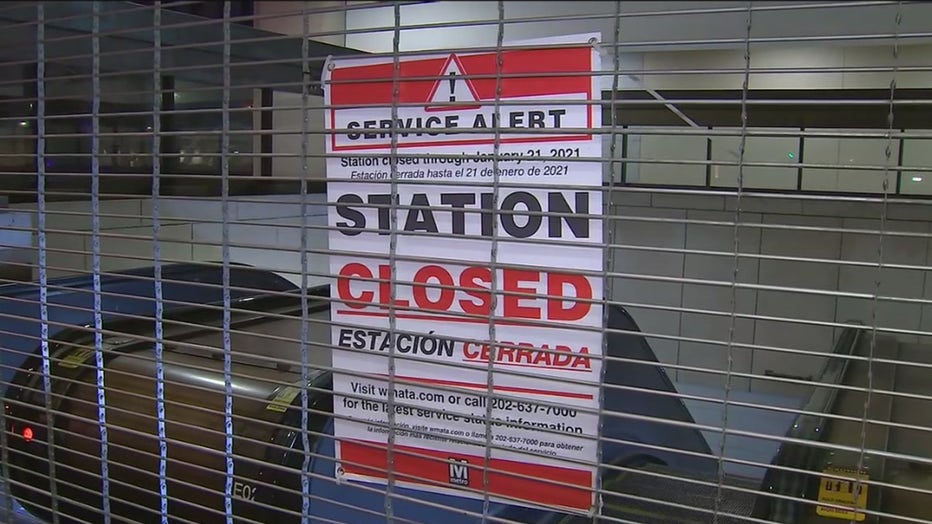 Metrorail will operate from 5 a.m. until 11 p.m. on weekdays, 7 a.m. until 11 p.m. on Saturday and 8 a.m. until 11 p.m. on Sunday from Friday, January 15, through Thursday, January 21.
RELATED: 'Our worst nightmare really come true': DC police officers detail riot at US Capitol
Beginning Saturday, January 16, through Thursday, January 21, Metro Center and Gallery Place stations will close and trains will pass through the stations without stopping.