Maryland Rep. Raskin's cancer in remission after completing chemotherapy
WASHINGTON - Maryland Congressman Jamie Raskin completed his chemotherapy treatments this week, and rang the bell alongside MedStar Georgetown University Hospital nurses, doctors, and pharmacists who he says saved his life over the past five months.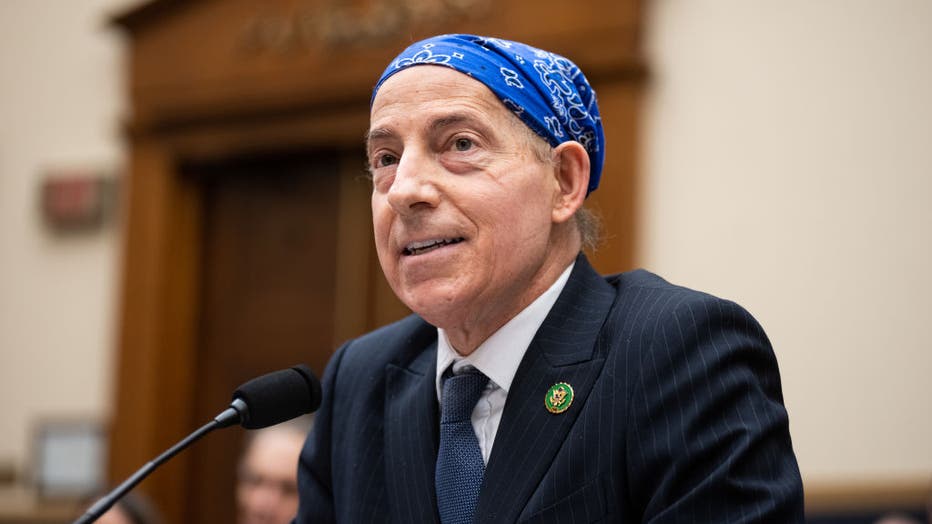 UNITED STATES - FEBRUARY 9: Rep. Jamie Raskin, D-Md., testifies during the Weaponization of the Federal Government Subcommittee hearing on "Weaponization of the Federal Government" in Washington on Thursday, February 9, 2023. (Bill Clark/CQ-Roll Call
The House Representative thanked the staff at the hospital who he credits with organizing six rounds of five-day chemo sessions, so he didn't have to miss votes or hearings.
"A new chapter begins," Raskin tweeted Thursday. 
The congressman also released an open letter Thursday thanking family, friends and the many Marylanders who wished him well during his chemo-immunotherapy treatments. 
"Having now finished chemotherapy and rung the bell with my nurses and doctors, having a midterm PET scan report showing "negative" for any discernible cancer cells, and having a preliminary diagnosis of being "in remission" from diffuse large B-cell lymphoma with a 90% prognosis of no relapse, I am overwhelmed with gratitude and love," the letter reads. "I feel love and gratitude not just for my family, my friends, my constituents and my colleagues but for the many thousands of people—both Marylanders and those of you living much further away—who have reached out to me over the last five months with expressions of prayer, best wishes, concern, solidarity, sympathy and moral encouragement—not to mention beautiful gifts of bandanas, homemade scarves and sweaters, Capitol Police baseball caps, hospital scrubs, wool hats, chocolate chip cookies, mandel bread, pea soup, vegan matzoh ball soup, and gorgeous paintings, poems and letters that I will treasure forever."
Raskin was diagnosed in 2022 with Non-Hodgkin lymphoma and has continued working while undergoing treatment.