Maryland acquires 500,000 COVID-19 tests from South Korea after weeks of discussions
WASHINGTON (FOX 5 DC) - Maryland has acquired half a million COVID-19 tests after weeks of discussions with South Korea, Governor Larry Hogan announced Monday.
The tests were procured from the company LabGenomics in South Korea.
Hogan said the tests arrived at BWI Airport over the weekend.
Governor Hogan spoke with the South Korean flag behind him during the press conference to announce "Operation Enduring Friendship" as part of the deal.  
RELATED: Your coronavirus questions answered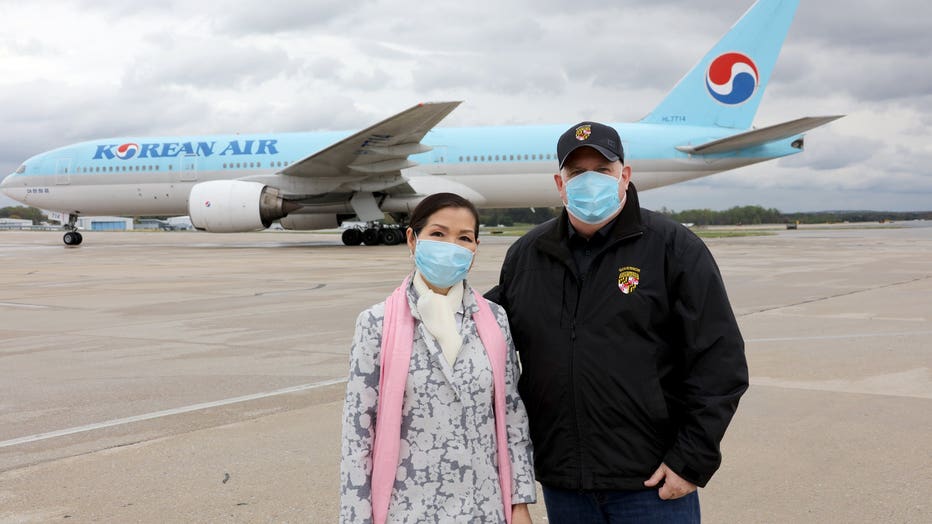 Maryland has acquired half a million COVID-19 tests after weeks of discussions with South Korea, according to a spokesman for Governor Larry Hogan. (Governor Larry Hogan/Twitter)
He thanked his wife, Yumi, highlighting the fact that she is the first Korean-American First Lady of any U.S. state. Yumi, who speaks fluent Korean, was able to make daily calls to officials in the country. 
They worked together for weeks to secure the tests. 
Governor Hogan said South Korean President Moon Jae-in once called him a "son-in-law to the Korean people." 
"I had no idea how much that would come to mean," Hogan said. 
Download the FOX 5 DC News App for Local Breaking News and Weather
In the District, health officials say they are still not certain how many tests are conducted every day between public labs and private labs.
At the moment, the public lab is capable of handling 500 a day and city officials are working to learn what the capacity is on any given day.
So far, the District has tested just over 14,000 people with 2,927 positive tests.
Mayor Muriel Bowser says capacity has to go up before the city can get into phase one.
"Over the last several days we have been adding to our testing capacity and we will continue to learn more from the private providers about the testing that they are doing and reporting that information to us and anything more that we can do so we will continue to look forward to report to you on our strategy to get more tests, more supplies and get them out, that is how we get to phase one," said Bowser on Monday.
In Virginia, Governor Ralph Northam said during a Monday news conference that the Commonwealth is capable of doing about 700 tests per day in both private and public labs. 
Northam said he is beginning a testing work group to try and get to the bottom of how they can increase their capacity. He says they are still trying to find the supplies that they need and PPEs for healthcare workers and others on the front lines. 
There were more than 13,000 confirmed coronavirus cases and 516 deaths reported in the state as of April 20.