Malnourished, dead dogs found on Frederick County property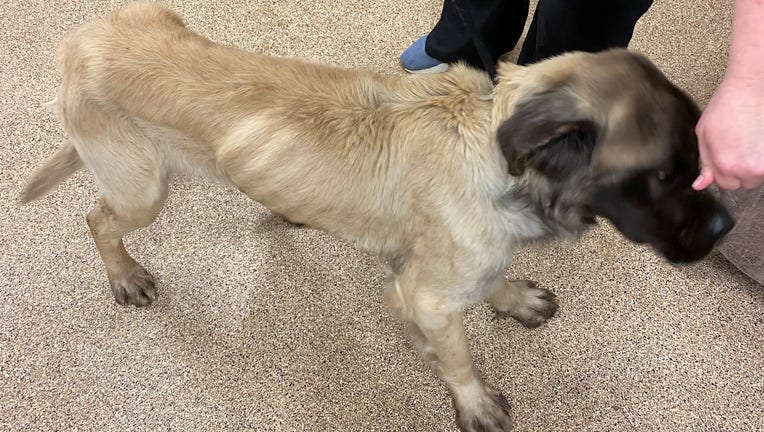 article
FREDERICK COUNTY, M.d. (FOX 5 DC) - Five malnourished dogs and three dead dogs were found on a property in Frederick County over the weekend, according to police.
The Frederick County Sheriff's Office responded to a call at the 8300 block of Water Street Road in Walkersville for malnourished and possibly dead dogs on the property on Saturday.
Upon searching the property, initial results showed a fenced-in kennel, with two separate pens, in the backyard with five Mastiff-type dogs that appeared to be starving. Each pen had three dogs in them and in one pen, a dead Mastiff-type dog was inside the kennel laying against the fence.
READ MORE: Dallas Zoo Arrest: Man facing charges in connection to monkey disappearance, leopard escape
While on the scene, deputies and officers observed the dogs eating the other dogs' feces, as they were so hungry. 
Officers completed a sweep of the property and found two more dead Mastiff-type dogs in trash bags, located outside and in front of the kennel. 
All five of the dogs found alive and all three of the dead dogs were removed from the property and transported to the Frederick County Animal Control Center.
Officers transported one of the dogs found alive to a local Emergency Animal Hospital for examination and treatment, as it could barely stand or walk. After spending the night receiving veterinary care, providers released the dog from the Emergency Hospital on Sunday morning.
READ MORE: Texas stray dog 'miraculously' recovering after being shot eight times in nose, leg, neck
"The investigation into the welfare of the dogs is active and ongoing," said David Luckenbaugh, FCDAC director. "The five dogs currently at the Animal Control Center are doing well and receiving individualized care."
For more information on the status of the dogs involved in this incident or to report a suspected case of animal abuse, contact the FCDAC at 301-600-1544.