Kitchen Savages chef serves up second chances for his Southeast neighborhood
WASHINGTON - Early evenings at most D.C. restaurants means waiters, cooks and bartenders are all busy serving a continuous stream of customers. 
Inside Kitchen Savages — it's the same. But what's unexpected is the fine-dining soul food restaurant's location on Good Hope Road in Anacostia.
"There is a methadone clinic. There's a domestic violence shelter, there's homelessness," explains Darrell Gaston, executive chef, owner and creative director of Kitchen Savages. "We know that we have brought something that is not only inspiring but what people have been yearning for, for so long.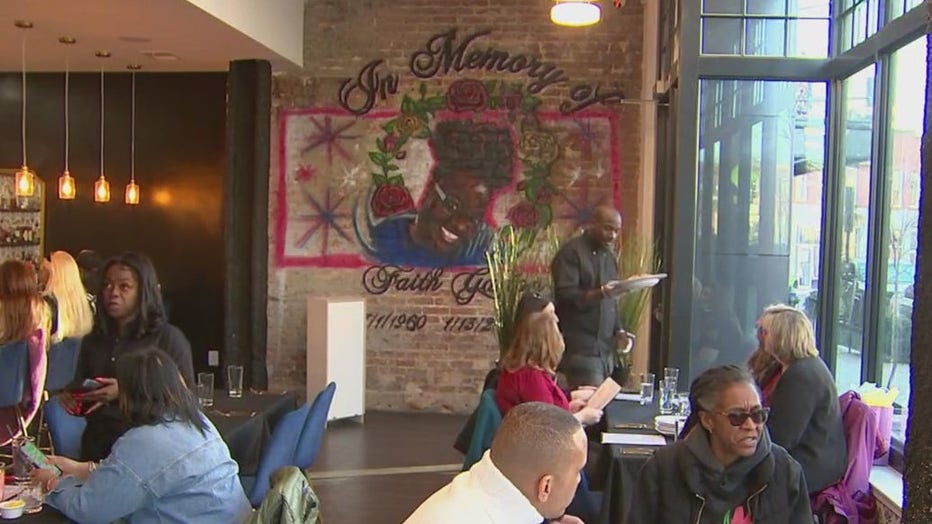 Born and raised in Southeast D.C. Gaston says 5,000 people have already come through the doors of the Ward 8 restaurant in the first six weeks that it has been open. Gaston has a Howard University Law School degree and a background in politics and community activism. 
What he doesn't have is restaurant experience.
"I didn't know how to cook, but I knew how to read recipes," Gaston said. 
Watching his mom and aunts make delicious soul food growing up gave him the confidence he needed.
As an attorney, Gaston worked for judges in D.C. but the justice system constantly left him disheartened
"People, particularly Black men, were not being treated equally, and I couldn't be a part of a system such as that," he explained.
So, he decided he would try to stop gun violence and crime in his community another way.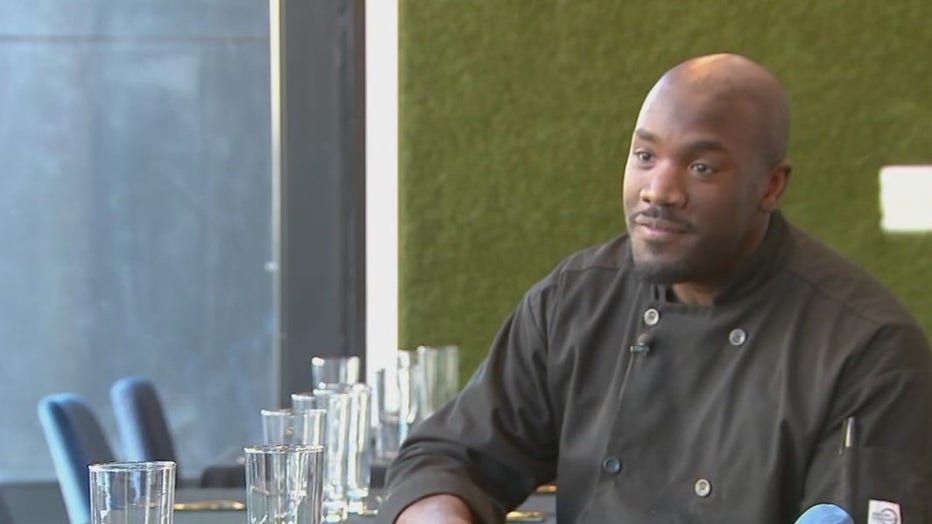 Darrell Gaston, executive chef, owner and creative director of Kitchen Savages
"A lot of Black young men was being traumatized by the loss of seeing 13, 14, 15-year-olds killed, and I needed to provide a safe space for them," he said.
Gaston took them out to restaurants and then taught them how to cook. He started a soul food take-out business just a couple of weeks into the pandemic, operating out of an Anacostia grocery store. 
Three years later, he opened the fine-dining version of Kitchen Savages.
Everything inside the restaurant is intentional from the place settings to who Gaston employs.
"That's why we have black table clothes. That's why we have gold silverware because I feel like Ward 8 deserves that high-class experience" he said.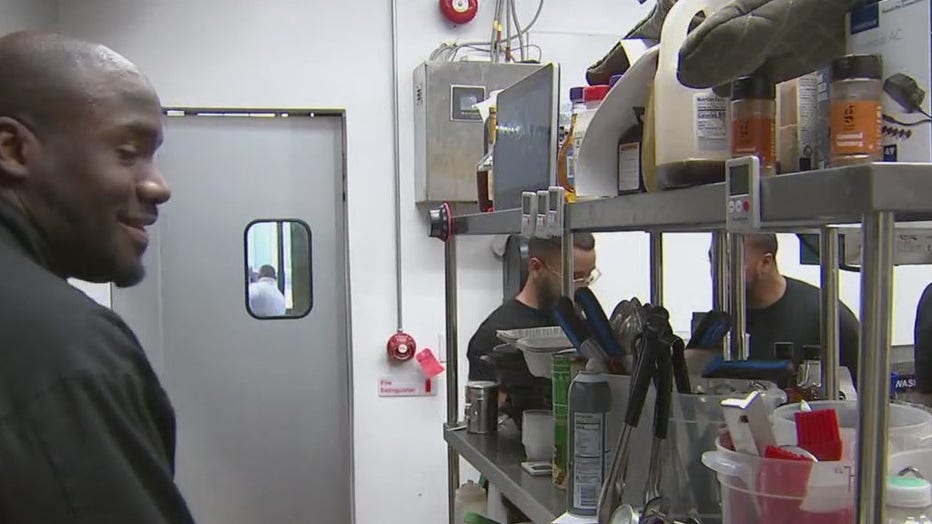 At Kitchen Savages, 18 of the 23 employees reside in Ward 8 and many of them are on their second or third chance at a fresh start. 
Gaston says the ward also suffers from a high unemployment rate because people won't give those who live there a chance.
"While many people would say, 'oh no, you have a felony or you robbed someone. You did this'. It was intentional for me to understand you're in Ward 8," Gaston said. 
"He could have gone out and went to people who had experience in restaurants and brought them in, and we wouldn't have had no job at all," said Omar Whitties, the restaurant's Expo Manager. "It's a blessing and an opportunity."
Whitties is a single dad to three kids, including a 10-month-old baby. He's spent time in jail and had never worked in a restaurant until he got the opportunity with Kitchen Savages. He says it changed his life.
"It makes me feel proud because I am actually taking care of my responsibility as I should do as a man. You gotta realize the average man who is in our area, Ward 8, Ward 7, probably in Washington, D.C. — a lot of us don't have this opportunity," he said.
Whitties calls Gaston his "little big brother" since Gaston is technically younger than him, but taught him how to cook and maneuver through life. Whitties grew up in the area around Kitchen Savages and still lives there.
"It's always been drugs, killings and all that, but he's trying to bring something different. He's bringing people another opportunity," Whitties said.
John Turner, 65, works as a server-support at Kitchen Savages. He spent eight months looking for a job and had no income at the time.
"The last time I went to prison, I stayed 10-and-a-half years and I went to D.C. Central Kitchen and learned how to cook," Turner said.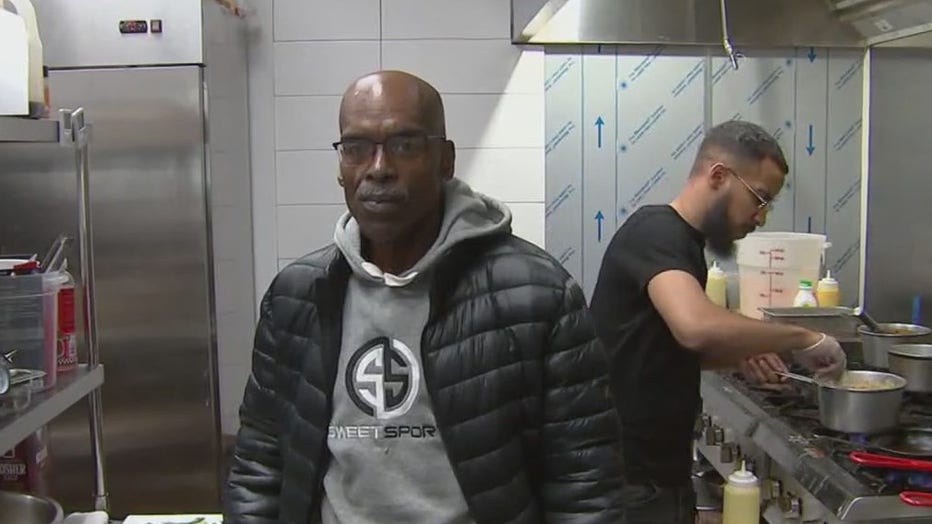 John Turner, server support at Kitchen Savages
Gaston and Kitchen Savages came through when the restaurant opened back up in February.
"To see a Black man open a restaurant in a neighborhood that's mostly impoverished, there's nothing here like this. So, I think that's special," Turner said.
It's been life changing for the employees and their entire neighborhood.
"They're now becoming the angels of their communities by saying 'you know what, you don't have to sell drugs forever, there's a different option of getting money and that's a legal option,' and that's what Kitchen Savages does," Gaston said proudly.
Every person Gaston hires and every person after that who is impacted by his team has an opportunity to turn their life around because of the restaurant.
"I tell customers if they ever want to know how they can prevent violence in the city, come through the doors of Kitchen Savages because when you come here you are making sure that the people who work here don't go back to selling drugs, or they don't go back to being on the corner, or they don't have the opportunity to rob you because they can't feed their families," he said.
Gaston describes the restaurant as a safe place and calls the workers family. He connects employees to city services like housing and mental health support should they need them. He says Kitchen Savages is just the beginning. He has plans for more restaurants in Southeast.