Illegal fireworks to blame for early morning car fire in Northwest DC, officials say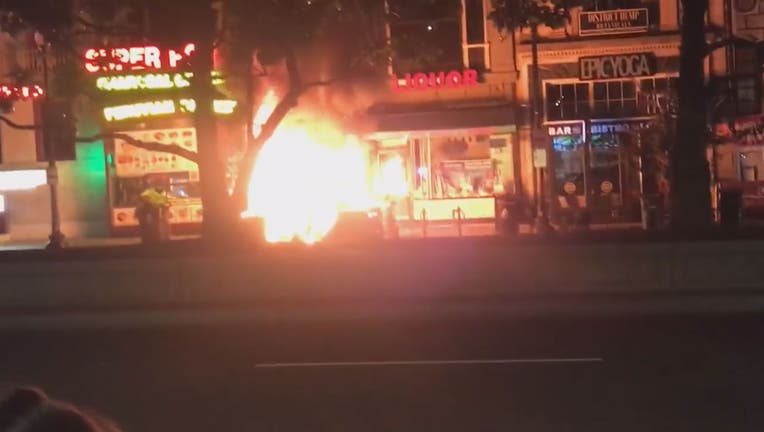 article
WASHINGTON (FOX 5 DC) - We now know the cause behind an early morning car fire in Northwest D.C. that sent two men to the hospital. DC Fire and EMS officials tell FOX 5 the use of illegal fireworks is to blame.
The video is disturbing. Fire officials say the car was engulfed in flames when they arrived to the scene at around 2:48 a.m. Friday.
John Thompson was there when the car exploded on Connecticut Avenue NW. He is among the half-dozen or so good Samaritans who immediately charged the car and its growing flames to help the two passengers inside. 
"There were a bunch of people outside. We all felt a shake to the ground. We ran over there. We saw a lot of smoke and we didn't think anybody was in the car so we were close to the car. He was just kind of slumped over. He got his seatbelt off and he was in bad shape. His arm was hurt. We helped him out and walked him over to the curb," said Thompson. 
 
The fact that so many good Samaritans, like John, immediately sprang into action is to be celebrated but officials say it's a fire that didn't need to happen.
FOX 5 has confirmed the two men inside had illegal fireworks.
DC Fire and EMS warns "that the use of illegal fireworks under any circumstance is never a good idea - and that this event could have caused fatal injuries." 
All that remains of the car is a charred shell of what was once a Ford sedan.
Police have not identified the victims, telling FOX 5 that both men are in their 20's and expected to survive their injuries.
You may remember that illegal fireworks were cited as the cause of a house fire in Petworth on July 5. The residents in that fire also escaped.
Preliminary reports suggest one of the fireworks that started this morning's blaze may have had a short fuse and burned quickly causing the man holding it to panic and drop it inside the car.
Charges to both men in this case are pending and an investigation into the incident continues.