Hogan: Maryland to pay $168 million for Purple Rail line in DC area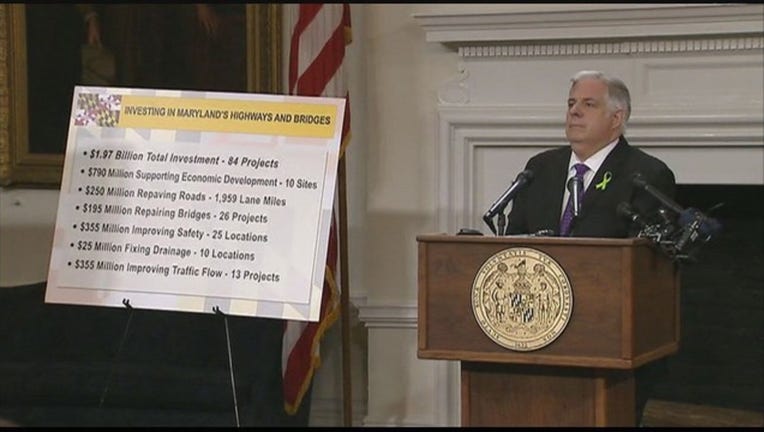 article
By BRIAN WITTE
Associated Press
ANNAPOLIS, Md. (AP) — Gov. Larry Hogan said Thursday that the state will support a more cost-effective plan for the Purple Line rail system in the Washington suburbs that will require a greater investment from Montgomery and Prince George's counties. Hogan also announced plans to spend nearly $2 billion on Maryland roads and bridges.
In a long-anticipated announcement, Hogan said the state would contribute $168 million to the $2.45 billion cost of the Purple Line, instead of nearly $700 million. He also announced the state would not proceed with a current proposal to build the $2.64 billion Red Line system in Baltimore.
"We're not opposed to mass transit, but we do oppose wasteful and irresponsible spending on poorly conceived projects that waste taxpayers' money," Hogan said.
While the decisions on the two light rail plans answered some long-asked questions, Hogan's announcement about infrastructure spending reflected the governor's intention to shift greater focus to roads and bridges. Hogan repeatedly criticized his predecessor's administration for neglecting transportation funding, and he campaigned on putting a greater emphasis on roads.
"Everyone in the state relies on Maryland's roads," Hogan said. "We have a responsibility to the state as a whole, and with these projects we are investing in, we are going to touch the daily lives of citizens all across our state."
Hogan said $1.35 billion will be used for new projects across the state, on top of the $625 million that had been planned. The $1.35 billion in new projects includes $845 million for major projects and $500 million to fix bridges and improve roads.
"This additional investment will be used to upgrade and preserve the state's highway system," Hogan said. "This includes repaving roads all across Maryland, fixing our bridges, improving roadway and pedestrian safety and improving traffic flow."
The Purple Line is a 16-mile light-rail project, which is designed to help ease some of the worst traffic congestion in the nation. It would have 21 stations between Bethesda and New Carrollton, providing a direct mode of rail transportation for commuters between the state's two largest counties with a combined population of more than 1.8 million.
"I am heartened by the governor's decision today," Montgomery County Executive Isiah Leggett said. "I look forward to further discussions with the governor over every aspect of the Purple Line — cost, design, construction schedule, and the role Montgomery County will be able to play in making the Purple Line a reality."
Prince George's County Executive Rushern Baker said he will thoroughly review the proposal with his advisers.
"In addition, we will work in concert with Montgomery County to analyze whether this new proposal maintains the spirit of the initial plan for the Purple Line and will lead to the outcomes and benefits we have been talking about for years," Baker said.
Pete Rahn, Maryland's transportation secretary, said officials worked to reduce the cost in ways such as reducing the headway of cars from 6 minutes to 7.5 minutes, reducing the number of cars needed.
"We've reduced a number of items out of this that frankly were producing a Cadillac project and not a Chevy project," Rahn said, adding that costs have been reduced by more than $200 million.
But Some questioned whether the new plan would lead to the Purple Line ever being built.
"While I'm encouraged that the governor indicated some support for the Purple Line, I'm uncertain as to how it can be successfully reformulated with materially less state funds and worry that such an effort may effectively terminate the project," said U.S. Rep. John Delaney, a Democrat whose district includes a significant portion of Montgomery County.
Hogan said Purple Line construction will rely on the availability of about $900 million in federal funds, increased investments by the two counties and private-sector companies delivering a proposal to meet the administration's new vision for the project.
Rahn said the state is about 120 to 150 days away from being able to accept a final proposal for the Purple Line from four teams. The construction timeline is projected to be about five years.
As for the Red Line, Rahn said the plan was "fatally flawed" by a $1 billion tunnel that would have been needed. Hogan said the state will look at other options to address transportation issues in the city.
ANNAPOLIS, Md. (AP) — A look at some of the transportation projects announced by Gov. Larry Hogan on Thursday in $845 million of major transportation projects. They are part of a total of nearly $2 billion in transportation funding Hogan announced Thursday:
—$190 million to widen Route 404 on the Eastern Shore from two lanes to four lanes.
—$100 million to reduce congestion on Interstate 270 in Montgomery and Frederick counties.
—$200 million for a full interchange at I-495 and I-95 at the Greenbelt Metro station in Prince George's county to help accommodate a potential new FBI headquarters.
—$90 million to upgrade U.S. 219 in Garrett County and build a new interchange at I-68.
—$45 million to improve and widen I-81 in Washington County to six lanes.
—$65 million to projects in southern Maryland, including widening of Route 4 to add capacity.
Copyright 2015 The Associated Press. All rights reserved. This material may not be published, broadcast, rewritten or redistributed.