Grateful mother praises police after autistic son's safe recovery in Rockville
ROCKVILLE, Md. - A mother in Montgomery County says she's grateful for the police department after her son living with autism went missing in early July. 
Alshadye Yemane told FOX 5 she was a little hesitant to call police when she lost her child at a local park on July 5, but says it's a decision she will never question again!
"As a Black mother with a very tall Black son, you can't help but be concerned that when situations like this happen that something will be misinterpreted," Yemane said. 
Her 11-year-old son Adera stands 5'11.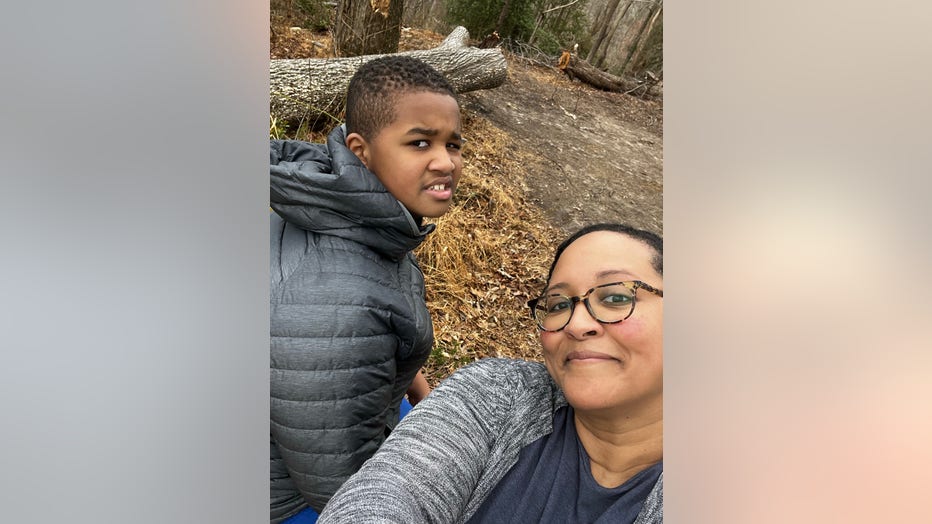 He's a big kid – with a big heart – living with autism. 
"With kids with autism, they don't have a sense of the danger of their environment," Yemane said.  
That's why when Adera went missing at Croydon Creek Park in Rockville on that hot July afternoon – she panicked.
"All kinds of horrible nightmare situations were running through my mind, I was petrified," she recalled.
Yemane and Adera were taking a walk on a trail they're familiar with when he suddenly ran off.
"But after five minutes of standing on the bridge, he didn't come back. I panicked. I called 911 and told them that my son is missing," Yemane said. 
Within moments, she says Montgomery County and Rockville City officers – a helicopter and K9 units responded to the park – and started searching for her child. 
"I expected two or three officers to walk into the woods and find him," she said.
With their expertise, an hour and a half later, Adera showed up. 
"He said 'Hi mommy' and I was so relieved," she said. "I'm always concerned about him going out in the world and not being understood, and they (police) understood him."  
Especially, the officers with the Autism Intellectual Development Disabilities Outreach unit with Montgomery County police. 
Officer Laurie Reyes says this unit has the compassion and understands the urgency with these missing persons calls. 
"We average about 3 to 8 finds a week of individuals who usually have autism," Reyes said. "As it relates to someone on the autism spectrum, time is not on our side at all. They could go into a body of water of go into traffic." 
The unit never wants any parent to ever hesitate or feel guilty when calling 911. 
"It's okay if you have to call 2–3 times," said Amy Stoughton with the Autism IDD Outreach unit. 
"I want other people to know that there is this amazing group of people that are here to help families with autistic children," Yemane said.
The Autism IDD Outreach Unit keeps in touch with families – paying them a visit, providing them resources – and helping prevent situations like this from happening again.