Gaithersburg Giant customer attacked in possible hate crime
GAITHERSBURG, Md. - Over the next two weeks, prosecutors will be presenting case details to a grand jury to determine whether a 19-year-old suspect charged in an apparent violent assault, should also be charged with a hate crime.
Montgomery County police said 19-year-old Eugene Thompson of Washington D.C. is now facing charges that include first-degree assault.
Police said the assault took place inside the Giant supermarket on Flower Hill Way in Gaithersburg Wednesday afternoon. 
Court documents revealed the victim noticed multiple juveniles acting disorderly inside the store, throwing fruits and other grocery items. The suspect told police he went to tell the group to stop, and the group then reportedly surrounded and taunted the victim.
Police reported a suspect even threw a lime at the man's head.
Court documents show the customer unzipped his sweatshirt, revealing a Star of David necklace. That's when the victim pulled out a pen, police said, in an attempt to deter the group.
The court documents showed the shopper told police the suspect noticed his Star of David necklace and said something to the effect of: "Let's go – EXPLETIVE -- Jew."
The victim claims he tried to talk the teens down but told police the suspect began punching him and at one point, allegedly smashed the victim's head into the ground to the point of unconsciousness.
The customer was unable to recall all the details in this incident, according to court documents, but did tell police at one point he heard those in the group saying, "Yeah, do it for Kanye," likely referring to the rapper recently under fire for making anti-Semitic comments.
READ MORE: Swastikas found drawn on desks at 3 Montgomery County schools: officials
There have been other recent antisemitic incidents in the county that are still under investigation.
Montgomery County Council President Evan Glass, who is also Jewish, told FOX 5 he is calling on the county executive's team to create an anti-hate task force to clamp down on hate speech against any group — whether that hate speech is shared online or in the community.
"What the chief told me and what I keep sharing with everybody is if you see something, you have to say something," Glass told FOX 5. "We cannot let any incident go unreported and un-notified. Because that is how hate proliferates." 
The council president also told FOX 5, "What I've been told about this incident is it started off with disorderly kids. And an incident bystander who was trying to calm a situation but then a Star of David was flashed from his necklace and the situation turned sideways and it became an act of hate and violence. And I believe that this is promoted and promulgated through social media and from people spewing hateful things against members of the Jewish faith – against people from them. So we have to tap down on this hate speech whether it is on social media, whether it's in our schools or in graffiti in our community because hate promotes hate."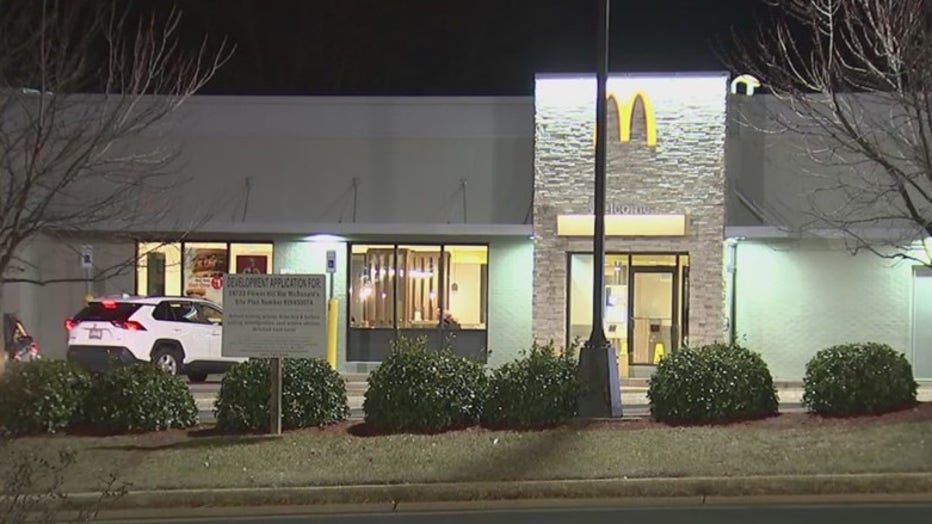 The council president told FOX 5 he met with the police chief on Friday to discuss security. 
RELATED: Montgomery County Executive Elrich says antisemitic incidents 'won't be tolerated'
After the supermarket assault, police said the suspect, who previously gave police the name "Michael Stewart," took off with the victim's keys.
Officers found Thompson at the McDonald's across the street from the supermarket, along with a group of other "juveniles" who had been stopped.
Thompson was found with the victim's keys on him.
The victim was taken to the hospital with serious injuries, but authorities expect him to recover. 
Gill Preuss, the CEO of the Jewish Federation of Greater Washington, called this another horrific act of violence in our country and community. 
"There are so many people espousing different forms of hate these days," Preuss told FOX 5. "We have to come together as a community to fight this and whether it's racism or hatred against Asian and pacific islanders or whether it's hatred against the Jewish community or in the LGBT community. We have to say there is no place for hate in our community or in this country, and we are in this battle together."
Thompson faces strong-arm robbery charges in addition to first-degree assault.
He is currently being held in jail without bond. 
This is a developing story. Check back with FOX 5 for updates.