FOX 5's 'Pulse of the People' with Tim Kaine, Anthony Brown addresses topics from COVID-19 to police reform
WASHINGTON (FOX 5 DC) - FOX 5 delivered a very special Town Hall Meeting: 'Pulse of the People' with Virginia Senator Tim Kaine and Maryland Representative Anthony Brown Thursday night in D.C.
FOX 5's own Jeanette Reyes and Jim Lokay got answers to a number of questions that viewers submitted through social media about the key issues that will help get us back to normal. 
Kaine and Brown answered a number of questions ranging from President Biden's jobs plan to police reform to foreign police, including America's stance toward China and the president's promise to withdraw from Afghanistan.
Download the FOX 5 DC News App for Local Breaking News and Weather
The FOX 5 DC Instapoll drove a lot of engagement during the town hall, with Kaine referencing it when answering questions. 
The poll asked which issues facing the country right now were most important, and generated nearly 1,200 votes. 
Economic recovery was voted the most imporant issue with nearly two-thirds of the votes.  
One viewer told a FOX 5 photographer he wanted to know what was going to be done about "all the unemployed people that need jobs, how are you going to provide jobs for them, are you really concerned about them, or where is that on your list of things to do."
Brown noted that he's going to address it by supporting the president's American Jobs Plan, which he says is will grow out of the investment in infrastructure. He said the second phase of that is supporting the American Families Plan.
Brown  believes the American Families Plan provides a bedrock that will enable people to get out into the workforce.
Another viewer said they're particularly concerned about police reform.
"When I first moved to Prince George's County, almost daily, we'd hear about police misconduct, brutality, people being hurt and killed in police custody. But those numbers have gone down dramatically – but that's not good enough," said Brown, who supports the George Floyd Justice in Policing Act.
SUBSCRIBE TO FOX 5 DC ON YOUTUBE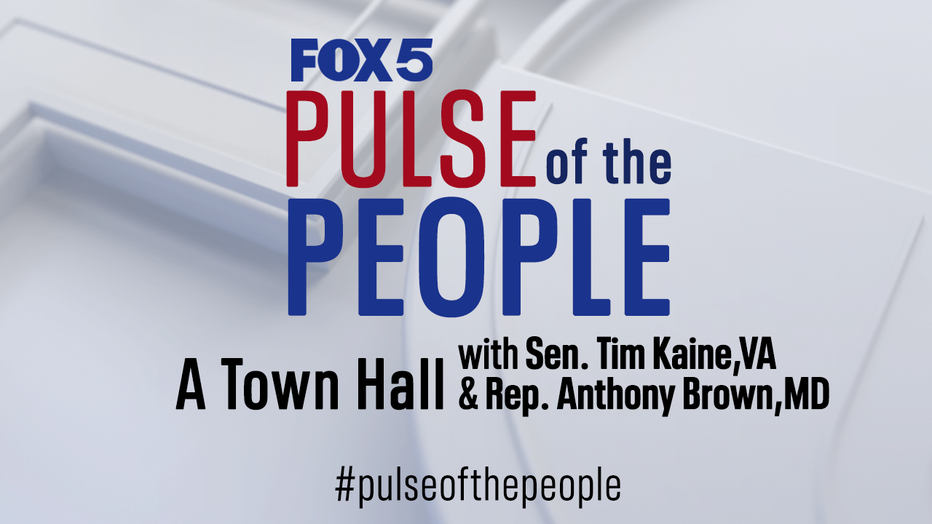 Kaine said he an accreditation process would be a pro-police measure that would also promote accountability.
"We give funds to police departments that we don't require to be accredited. Even though there's accrediting agencies that do a good job. Asking police departments to be accredited is not anti-police, it's actually pro-police. And the departments that actually go through accreditation find that it helps with leadership training, it helps with use of force standards, so that's something that we could do that would be pro-accountability but not anti-police," he said.
To find out more of what Kaine and Brown had to say, watch the show in its entirety above.