Flight from Texas to Germany diverted to Dulles after encountering severe turbulence
DULLES, Va. - A flight from Texas to Germany was diverted to Dulles International Airport after encountering severe turbulence, according to the Federal Aviation Administration. 
Lufthansa Flight 469 landed without incident around 9:10 p.m. Wednesday.
The FAA reports that the crew reported encountering severe turbulence at an altitude of 37,000 feet over Tennessee.
The Airbus A330 was flying from Austin to Frankfurt. The Associated Press reports seven people on board were taken to area hospitals.
A Twitter post from a man who said his wife was on the flight claims that the lightening hit the plane.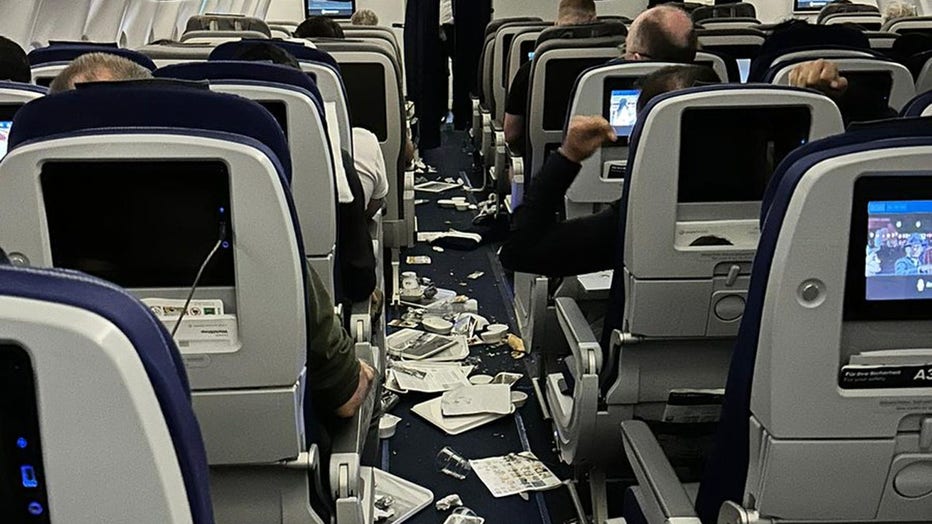 That claim remains under investigation. An aviation expert tells FOX 5 that claim will be one piece of what is going to be investigated.
"They'll be asked, what did the weather radar show, what was the ride like before you went into the turbulence, and if you did go around Thunderstorms, which were forecasted in Tennessee, why were people standing, why was there a meal service going on," explained Richard Levy. "There could be no turbulence at all and they could have a very good answer. This could be unexpected clear-air turbulence."
A photo from the post shows the interior of the plane with food and other items scattered in the aisle.
The post says some of the passengers were injured when the plane suddenly fell and then climbed.
FOX 5 spoke with Hunter Wynns, who was a passenger on the flight, about the scary experience.
"There was that initial drop. There was a couple close ones, a couple drops where you felt like, if that was the only drop that there was it wouldn't have been a big deal, but there were a lot of drops that seemed like that they were going to lead to something more," Wynns described. "Everything was kinda flying everywhere. You kinda saw, everyone raised with the plane, so it was pretty surreal."
The Federal Aviation Association and Lufthansa confirms they are investigating what caused the turbulence.