Firefighter searching for missing dogs who ran after crash in Montgomery County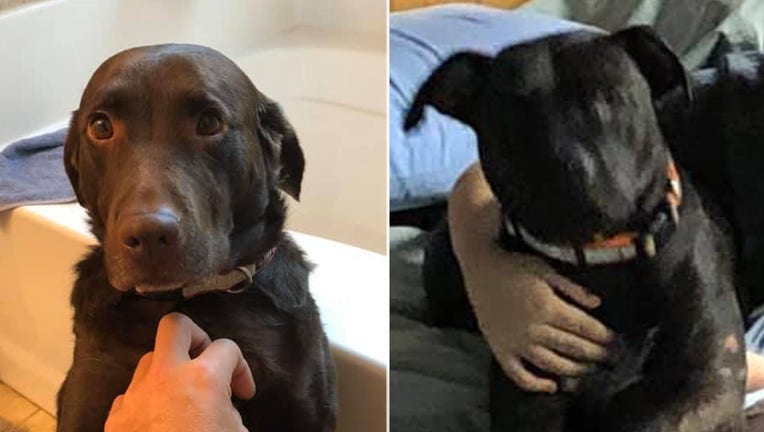 HYATTSTOWN, Md. - Brian Shelton was hurt after his Dodge Ram pickup truck collided with a tow truck on interstate 270 on Saturday.
The North Carolina firefighter was on his way to New York to spend time with his son for the holiday. He was driving northbound on I-270 near the Comus road overpass when he was struck by the tow truck.
"All of a sudden a large wrecker, one of the ones that tow tractor trailers was turning out across the highway from one of the crossovers right there," says Shelton.
Bystanders rushed to the aid of Shelton who was still stuck inside his truck.
When one helper opened the passenger side door of his truck, Shelton's two dogs, a chocolate Labrador and a pitbull, ran out of the car and escaped down the interstate.
After the initial search Shelton decided to take to social media in order to find his pets.
After a short while, Shelton got in contact with Jill Barski who is with the Lost Animal Resource Group—an east Coast volunteer organization that specializes in the humane capture of lost pets, strays and other animals.  
She says it's common for dogs to run away in those situations.
"When you have an accident scene they go into what is called flight mode," says Barski. "They're scared, they're running, they don't know where they are and they just immediately take off."
Bar ski has a tracking dog that I familiar with Shelton's scent. They also have cameras and humane traps around the area of the crash stocked with Shelton's cloths and some food.
Barski says they are monitoring the scene around the clock. 
If you do manage to see the dogs Barski says you shouldn't try to catch them—that could scare them away. You should give jill Barski a call at 301.651.7785 if you manage to spot the dogs.