FDA extends tobacco laws to hookah, e-cigarettes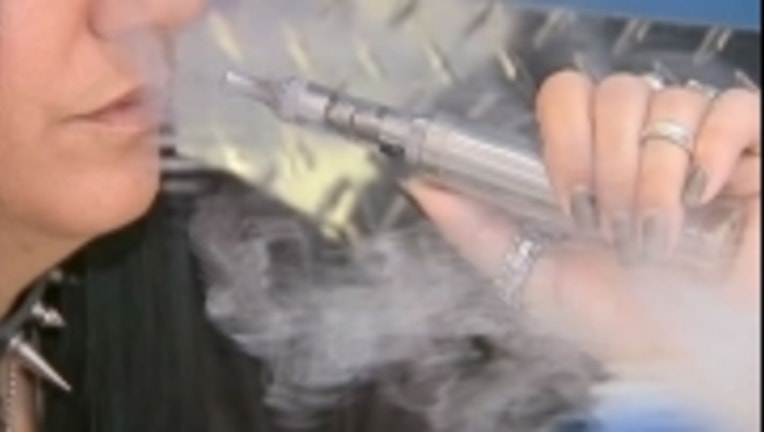 article
HOUSTON (FOX 26) - WASHINGTON (AP) -- The federal government on Thursday announced sweeping new rules for electronic cigarettes that will for the first time require the devices and their ingredients to be reviewed, a mandate that could offer some protection for consumers and upend a multibillion dollar industry that has gone largely unregulated.
Before brands are allowed to stay in the market, regulators would have to check the design, contents and flavor of the fast-growing devices, which have found a foothold with teenagers.
"Millions of kids are being introduced to nicotine every year, a new generation hooked on a highly addictive chemical" Health and Human Services Secretary Sylvia Burwell said. "We cannot let the enormous progress we've made toward a tobacco-free generation be undermined by products that impact our health and economy in this way."
The rules issued by the Food and Drug Administration would also extend long-standing restrictions on traditional cigarettes to a host of other products, including e-cigarettes, hookah, pipe tobacco and nicotine gels. Minors would be banned from buying the products.
E-cigarettes are battery-powered devices that turn liquid nicotine into an inhalable vapor. They lack the chemicals and tars of burning tobacco, but the cigarettes have not been extensively studied, and there's no scientific consensus on the risks or advantages of "vaping."
More than 15 percent of high school students report using e-cigarettes, up more than 900 percent over the last five years, according to federal figures.
Beginning in August, retailers will be prohibited from selling the tobacco products to anyone under 18, placing them in vending machines or distributing free samples. While nearly all states already ban sales of e-cigarettes to minors, federal officials said they will be able to impose stiffer penalties and deploy more resources to enforcement.
For now, the nation's estimated 20 million e-cigarette users may not see big changes. Companies have two years to submit their information to the FDA and another year while the agency reviews it. Government officials said this process is critical to taming the "wild west" marketplace for the products.
"Today's action is a huge step forward for consumer protection," said FDA Commissioner Dr. Robert Califf. "With this rule, the FDA will be able to prevent misleading claims and provide consumers with information to help them better understand the risks of using tobacco products."
The FDA action comes five years after the agency first announced its intent to regulate e-cigarettes and more than two years after it floated its initial proposal.
Public health advocates applauded the decision.
"Ending the tobacco epidemic is more urgent than ever, and can only happen if the FDA acts aggressively and broadly to protect all Americans from all tobacco products," said Harold Wimmer, president of the American Lung Association.
The vaping industry says the lengthy federal reviews would be time-consuming and costly and could put many smaller companies out of business.
The regulations "will cause a modern-day prohibition of products that are recognized worldwide as far less hazardous than cigarettes," said Gregory Conley, president of the American Vaping Association. "If the FDA's rule is not changed by Congress or the courts, thousands of small businesses will close in two to three years."
The agency has stumbled before in its efforts to regulate the products. In 2010, a federal appeals court threw out the agency's plan to treat e-cigarettes as drug-delivery devices rather than tobacco products.
Ray Story, who filed one of the initial lawsuits against the agency, vowed to sue the government again.
"We will come out with a vengeance," said Story, CEO of the Tobacco Vapor Electronic Cigarette Association. "We're certainly not going to allow this industry to get swiped under the rug."
House Republicans are already pushing back. A House spending committee last month approved industry backed legislation that would prohibit the FDA from requiring retroactive safety reviews of e-cigarettes that are already on the market and exempt some premium and large cigars from those same regulations.
The legislation's chief author, Republican Rep. Tom Cole of Oklahoma, called the FDA announcement an example of "nanny-state mentality."
Lawmakers on Capitol Hill have long enjoyed a close relationship with the tobacco industry, which has already given more than $1.8 million to members of Congress this election cycle, according to the Center for Responsive Politics.
The FDA first gained authority to regulate some aspects of cigarettes and other traditional tobacco products under a 2009 law. But e-cigarettes and other vaping products were not covered by the original law.
The FDA spent more than two years finalizing its proposal for regulating nontraditional tobacco products, delayed for months by industry resistance.
Some smokers say they use e-cigarettes as a way to quit smoking tobacco or to cut down. However, there's not much scientific evidence supporting those claims, though officials said they are working on research.
"In the meantime, we know there are many other proven cessation tools available," Burwell said.
Sales of e-cigarettes and related vaporizers are projected to reach $4.1 billion in 2016, according to the latest figures from Wells Fargo analyst Bonnie Herzog. After growing rapidly over several years, sales have recently begun to slow due to negative publicity and questions about safety.
Retail sales are dominated by a handful of traditional tobacco companies, including R.J. Reynold's Vuse and Imperial Tobacco's blu brands. Those products are sold nationwide at convenience stores and gas stations.
Hundreds of smaller companies sell more specialized products -- often with refillable "tanks" and customized flavors -- at vape shops and over the Internet.
The FDA released the following statement on Thursday:
"We have more to do to help protect Americans from the dangers of tobacco and nicotine, especially our youth. As cigarette smoking among those under 18 has fallen, the use of other nicotine products, including e-cigarettes, has taken a drastic leap. All of this is creating a new generation of Americans who are at risk of addiction," said HHS Secretary Sylvia Burwell. "Today's announcement is an important step in the fight for a tobacco-free generation - it will help us catch up with changes in the marketplace, put into place rules that protect our kids and give adults information they need to make informed decisions."
Tobacco use is a significant public health threat. In fact, smoking is the leading cause of preventable disease and death in the United States and responsible for 480,000 deaths per year. While there has been a significant decline in the use of traditional cigarettes among youth over the past decade, their use of other tobacco products continues to climb. A recent survey supported by the FDA and the Centers for Disease Control and Prevention shows current e-cigarette use among high school students has skyrocketed from 1.5 percent in 2011 to 16 percent in 2015 (an over 900 percent increase) and hookah use has risen significantly. In 2015, 3 million middle and high school students were current e-cigarette users, and data showed high school boys smoked cigars at about the same rate as cigarettes. Additionally, a joint study by the FDA and the National Institutes of Health shows that in 2013-2014, nearly 80 percent of current youth tobacco users reported using a flavored tobacco product in the past 30 days - with the availability of appealing flavors consistently cited as a reason for use.
Before today, there was no federal law prohibiting retailers from selling e-cigarettes, hookah tobacco or cigars to people under age 18. Today's rule changes that with provisions aimed at restricting youth access, which go into effect in 90 days, including:
Not allowing products to be sold to persons under the age of 18 years (both in person and online);
Requiring age verification by photo ID;
Not allowing the selling of covered tobacco products in vending machines (unless in an adult-only facility); and
Not allowing the distribution of free samples.
The actions being taken today will help the FDA prevent misleading claims by tobacco product manufacturers, evaluate the ingredients of tobacco products and how they are made, as well as communicate their potential risks.
Today's rule also requires manufacturers of all newly-regulated products, to show that the products meet the applicable public health standard set forth in the law and receive marketing authorization from the FDA, unless the product was on the market as of Feb. 15, 2007. The tobacco product review process gives the agency the ability to evaluate important factors such as ingredients, product design and health risks, as well as their appeal to youth and non-users.
Under staggered timelines, the FDA expects that manufacturers will continue selling their products for up to two years while they submit - and an additional year while the FDA reviews - a new tobacco product application. The FDA will issue an order granting marketing authorization where appropriate; otherwise, the product will face FDA enforcement.
For decades, the federal government and the public health community have fought to protect people from the dangers of tobacco use. Since the first Surgeon General's report on Smoking and Health in 1964, which warned Americans about the risks associated with smoking, significant progress has been made to reduce smoking rates among Americans. In fact, tobacco prevention and control efforts have saved at least 8 million lives in the last 50 years, according to the 2014 Surgeon General's Report on the Health Consequences of Smoking. In 2009, Congress took a historic step in the fight for public health by passing the bipartisan Family Smoking Prevention and Tobacco Control Act (TCA) giving the FDA authority to regulate the manufacturing, distribution and marketing of tobacco products to protect the public health.
Today's action marks a new chapter in the FDA's efforts to end preventable tobacco-related disease and death and is a milestone in consumer protection.
"As a physician, I've seen first-hand the devastating health effects of tobacco use," said FDA Commissioner Robert M. Califf, M.D. "At the FDA, we must do our job under the Tobacco Control Act to reduce the harms caused by tobacco. That includes ensuring consumers have the information they need to make informed decisions about tobacco use and making sure that new tobacco products for purchase come under comprehensive FDA review."
Today's actions will subject all manufacturers, importers and/or retailers of newly- regulated tobacco products to any applicable provisions, bringing them in line with other tobacco products the FDA has regulated under the TCA since 2009.
These requirements include:
Registering manufacturing establishments and providing product listings to the FDA;
Reporting ingredients, and harmful and potentially harmful constituents;
Requiring premarket review and authorization of new tobacco products by the FDA;
Placing health warnings on product packages and advertisements; and
Not selling modified risk tobacco products (including those described as "light," "low," or "mild") unless authorized by the FDA.
"This final rule is a foundational step that enables the FDA to regulate products young people were using at alarming rates, like e-cigarettes, cigars and hookah tobacco, that had gone largely unregulated," said Mitch Zeller, J.D., director of the FDA's Center for Tobacco Products. "The agency considered a number of factors in developing the rule and believes our approach is reasonable and balanced. Ultimately our job is to assess what's happening at the population level before figuring out how to use all of the regulatory tools Congress gave the FDA."
To assist the newly-regulated tobacco industry in complying with the requirements being announced today, the FDA is also publishing several other regulatory documents that provide additional clarity, instructions and/or the FDA's current thinking on issues specific to the newly-regulated products.
The FDA, an agency within the U.S. Department of Health and Human Services, protects the public health by assuring the safety, effectiveness, and security of human and veterinary drugs, vaccines and other biological products for human use, and medical devices. The agency also is responsible for the safety and security of our nation's food supply, cosmetics, dietary supplements, products that give off electronic radiation, and for regulating tobacco products.
___
Associated Press writers Mary Clare Jalonick in Washington and Tom Murphy in Indianapolis contributed to this story.