Authorities offer $20K reward for arrest of former Maryland Gov. Hogan's ex-chief of staff Roy McGrath
WASHINGTON - Federal authorities are offering  rewards of up to $20,000 as their search continues for former Maryland Gov. Larry Hogan's ex-chief of staff, Roy McGrath, after he failed to appear for trial on corruption charges.
McGrath, 53, was declared a wanted fugitive after he failed earlier this month to appear in court to stand trial on federal corruption charges. After the failure to appear, FBI agents raided his Florida home, and The U.S. Marshals Service launched an interstate manhunt for him.
On Tuesday, the FBI said McGrath is considered an international flight risk. The FBI's wanted poster lists several aliases for McGrath, including Roy Baisliadou and RC Mak-Grath and notes that he is a U.S. citizen born in Greece with ties to Florida. The FBI and U.S. Marshals Service are offering $10,000 each for information leading to McGrath's arrest.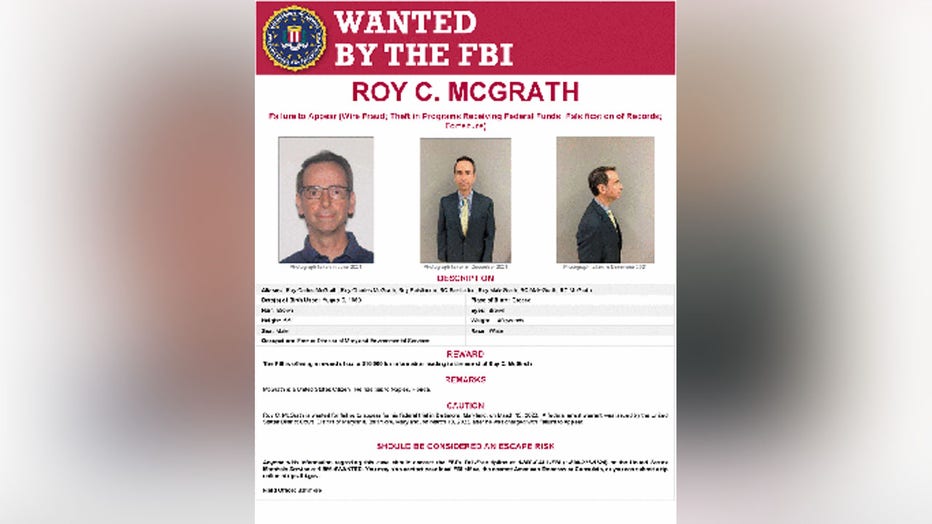 McGrath was indicted in 2021 on federal fraud charges, accused of securing a $233,648 severance payment equal to one year of salary as the head of Maryland Environmental Service. He also faces fraud and embezzlement charges connected to roughly $170,000 in expenses. McGrath has pleaded not guilty.
McGrath resigned just 11 weeks into the job as Hogan's chief of staff in 2020, after the payments became public. Following his arrest, he was released on bond. He was required to turn in his passport as a condition of release and later moved to Naples, Florida.
Anyone with information should contact the FBI's Toll-Free tipline at 1-800-CALL-FBI (1-800-225-5324) or the U.S. Marshals Service at 1-866-4WANTED.
Officials say you can also contact your local FBI office, the nearest American Embassy or Consulate, or submit a tip online at tips.fbi.gov.
The Associated Press contributed to this report.