Family confirms boy in viral post has died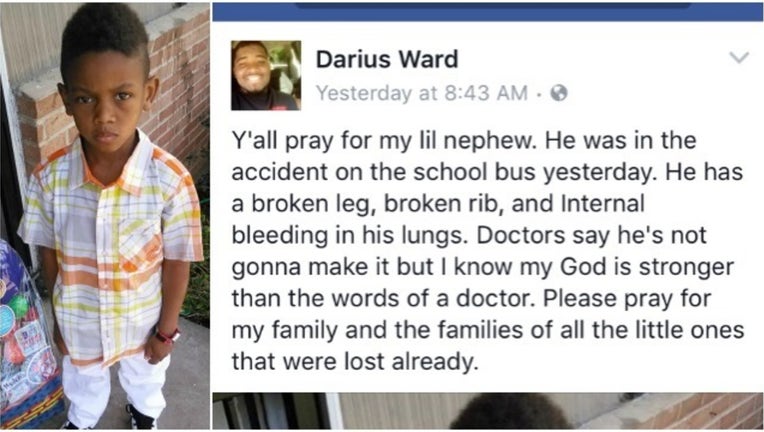 article
CHATTANOOGA, Tenn. - A somber update to the plea from an uncle of one of the students onboard the school bus which crashed Monday in Chattanooga. The family now says the child has died.
The Tennessee man's Facebook post asking for prayers following a horrific school bus crash in Chattanooga quickly went viral this week.
Darius Ward shared a picture of his nephew Tuesday morning, asking people to pray for his family as well as all those affected by the wreck.
Ward's post has more than 72,000 likes and has been shared more than 67,000 times.
In a follow up Facebook post late Wednesday, Kayonte's uncle, Darius Ward wrote:
About three dozen children had been riding on a bus police said was traveling too fast Monday afternoon when it veered off a narrow, winding road and crashed into a tree on the way home from elementary school.
Five children died at the scene. Twenty-three were taken to area hospitals, where 12 remained Wednesday evening -- six still in critical condition.
The driver of the bus, 24-year-old Johnthony Walker, was arrested and charged with five counts of vehicular homicide. Police said Walker was driving well over the posted 30 mph limit when he lost control of the bus.
He was jailed on $107,500 bail for a court appearance Nov. 29 on charges that also included reckless driving and reckless endangerment. It was not immediately known whether he had a lawyer.
The Associated Press contributed to this article.