Elderly man fires warning shots to stop attempted robbery in Sterling
STERLING, Va. (FOX 5 DC) - An elderly man is credited with helping to stop a couple from getting robbed in Northern Virginia.
According to Loudoun County Sheriff Mike Chapman, the man sprung into action and fired warning shots from his personal gun as that couple was being assaulted in the parking lot of a hotel near Dulles Airport.
"For somebody to assault somebody that aggressively at 9:30 on a Saturday morning in front of a hotel is a pretty bold move to do. And I'm sure that would frighten anybody that would be in the area," he said.
Jeremiah Bradley, 24, is from Ohio, but he's now behind bars at the Loudoun County Detention Center.
Deputies say it was Saturday morning at the Towne Place Suites by Marriott hotel off Holiday Park Drive in Sterling when witnesses reported seeing Bradley outside acting erratically.
Investigators say that's when he went up to a man and woman who were walking back to their hotel room from breakfast and began grabbing for the man's watch on his wrist. The commotion caught the attention of another hotel guest.
"As this was going on there was a witness who was outside on the patio… a senior citizen witness and he saw what was going on here. So, he went out to his car, which was nearby and retrieved his gun. He went back and tried to get this guy to stop the assault and at that point, but the suspect, Jeremiah Bradley, then attempts to lunge at the gentleman with the handgun and he fired a shot. Did not hit Bradley but did fire a shot and told him to get down. He did get down on the ground… but tried to get up again and go after him. He fired another shot or two and it was at that point he told him he had to wait there until law enforcement arrived, which he did," said Chapman.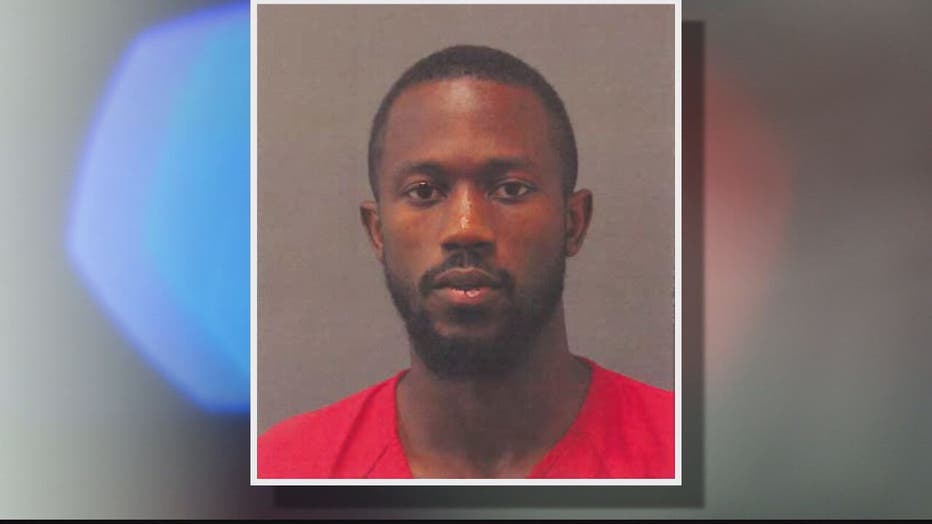 Jeremiah Bradley (Loudoun County Detention Center)
The sheriff says the man fired a total of three warning shots before deputies arrived and took Bradley into custody. Nobody was hit or hurt.
People who work nearby say the man did the right thing.
"It looks great for someone to come in, into the right moment and take part in it... Be brave. So that's something that's commendable," said Yash Raikar. 
"A lot of people would be afraid to even involve themselves but he involved himself ..And not only that managed to do it without escalating the violence. What an awesome guy. Great job" said Mike Larson.
Meanwhile, Chapman says as of now that man who fired the gun is not facing any charges but the case remains under investigation.
"He had a weapon, he had the authority to have the weapon, he had a concealed handgun permit. When he felt his life was being threatened by the initial lunge by this suspect. And if they felt his life was being threatened then certainly he had the right to defend himself," said Champman. 
Bradley was not armed at the time. He remains held without bond and is due back in court on September 23.