DMV residents want answers on late-night helicopter flights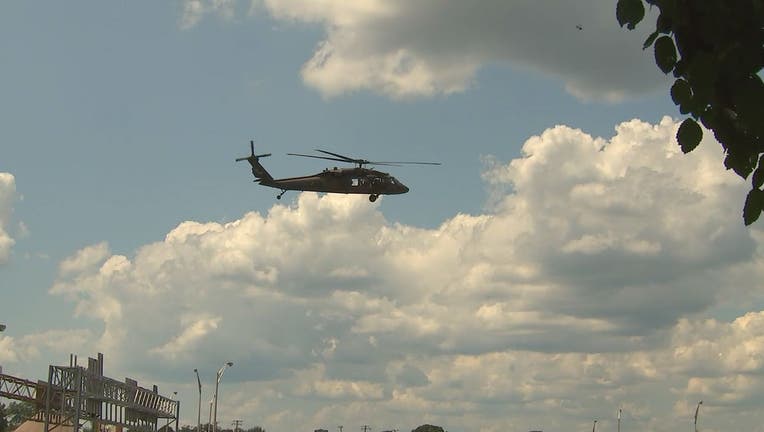 article
WASHINGTON - DMV residents who've been complaining about a loud helicopter noise may finally have an answer. 
According to Congressional documents disclosed by the Army, the helicopters might be linked to a "secret mission."
Virginia Congressman Don Beyer met with General Omar Jones of the Military District of Washington about Blackhawk flights over DC.
Jones said the mission is classified, but it turns out that Tony Capaccio – the Pentagon correspondent for Bloomberg – found that the Army had already made the "secret missions" public in ca congressional budget request.
"You know it could be potential terrorist attacks – The White House, Camp David other Federal buildings – it could be people launching missies in the area and Blackhawks would be able to pick up some of that. But the fact it's still ongoing it's still 'black' in terms of classified tells me there's still a threat stream there that hasn't abated," Capaccio said.
The document shows the Army is requesting $1.55 million for a classified mission involving 10 UH-60 Blackhawk helicopters and a "sensitive compartmented information facility" based at Fort Belvoir, Va. to conduct missions over the national Capitol Region of D.C., Maryland, and Virginia.
Bloomberg got the Army to confirm that the mission started back in October, but it won't say how long the Blackhawk flights will continue.
Residents in D.C., Maryland, and Northern Virginia have complained to Congressman Beyer about the flights for some time now.
Beyer's office says the helicopters have been in service here since at least the beginning of the year and that they should not be flying outside of the hours established for other non-emergency military helicopter flights in the National Capitol Region.
 A Pentagon spokesman did respond to Fox 5's emails late Thursday but said that the helicopter's mission is classified, and the length of the mission is undetermined.