Debt ceiling deal includes new work requirements for SNAP: How they work
Work requirements for federal aid programs emerged as a key sticking point in negotiations between President Joe Biden and Republican House Speaker Kevin McCarthy over raising the federal debt ceiling and averting an economic calamity.
The bipartisan agreement reached this past weekend includes a compromise on the matter.
In exchange for a two-year suspension of the debt limit, Republicans demanded stricter work requirements for the Supplemental Nutrition Assistance Program (SNAP), formerly known as food stamps, and the Temporary Assistance for Needy Families (TANF) program, commonly referred to as welfare.
However, the deal omitted an earlier and more controversial GOP push for Medicaid work requirements, which would deny government-sponsored health coverage to unemployed, able-bodied adults who do not have children.
"We have additional work requirements that are quite consequential," Rep. Patrick McHenry, R-N.C., told reporters on Sunday.
WHAT IS THE DEBT CEILING AND WHAT DOES IT MEAN FOR YOU?
Under the current criteria to receive SNAP benefits, able-bodied adults without children who are 49 and younger must work or participate in a training program for at least 80 hours a month. If not, they can receive benefits for only three months over a three-year period. The debt limit deal would increase the age on those stipulations to 54 and younger.
The agreement exempts veterans, homeless people and young adults who are transitioning from foster care from those work requirements – which could actually mean that more Americans qualify for food stamps.
Currently, only Americans who are unable to work due to a physical or mental disability or pregnancy are exempt.
The changes to the work requirements are temporary and will sunset in 2030.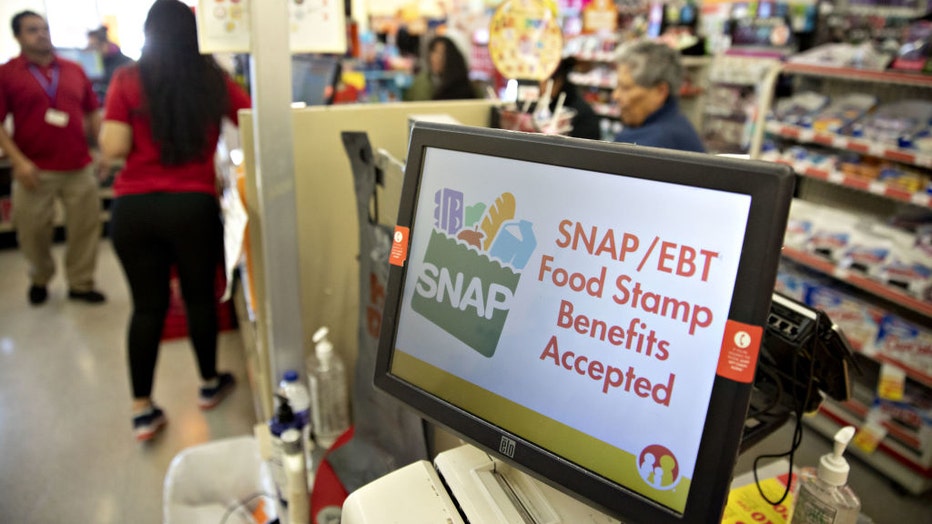 FILE - "SNAP/EBT Food Stamp Benefits Accepted" is displayed on a screen inside a Family Dollar Stores Inc. store in Chicago, Illinois, U.S., on March 3, 2020. Photographer: Daniel Acker/Bloomberg via Getty Images
The compromise also modifies the work requirements on the TANF program, which provides cash benefits to low-income households with children.
US DEBT DEFAULT COULD SEND MORTGAGE RATES SOARING ABOVE 8%
To receive the federal funding, states currently must ensure that adult recipients in at least half of single-parent families and 90% of two-parent families are "engaged in a work-related activity." The percentages are lower for states that have reduced the number of welfare recipients since 2005.
The debt ceiling, which is currently around $31.4 trillion, is the legal limit on the total amount of debt that the federal government can borrow on behalf of the public, including Social Security and Medicare benefits, military salaries and tax refunds. In a worst-case scenario, the U.S. would be so cash-strapped that it would have to delay its payment of interest or principal on the nation's debt.
DEBT CEILING SHOWDOWN RISKS TRIGGERING 'SELF-INFLICTED' RECESSION
The U.S. government bumped up against that limit in January, prompting the Treasury Department to initiate a series of actions that are known as "extraordinary" measures intended to stave off a default.
Treasury Secretary Janet Yellen warned last week the country could run out of money as early as June 5 if legislators do not raise or suspend the nation's borrowing limit.
Lawmakers are set to vote on the McCarthy-Biden agreement this week.
If the U.S. fails to raise or suspend the debt limit, it would eventually have to temporarily default on some of its obligations, which could have serious, negative economic implications. Interest rates would likely spike and demand for Treasuries would drop; even the threat of default can cause borrowing costs to increase, according to the Committee for a Responsible Federal Budget.
GET FOX BUSINESS ON THE GO BY CLICKING HERE
While the U.S. has never defaulted on its debt before, it came close in 2011 when House Republicans refused to pass a debt ceiling increase, prompting rating agency Standard & Poor's to downgrade the U.S. debt rating one notch.