DC United prepares to kick off 2023 season at Audi Field
WASHINGTON - Saturday is big day for soccer fans across the DMV as D.C. United kicks off its season at Audi Field.
The first game of the season, which kicks off at 7:30 p.m. Saturday, features the Black and Red taking on Toronto FC.
Ahead of the game, FOX 5's Ayesha Khan visited Audi Field to see how the crew at the stadium are preparing for another MLS season.
One big thing fans will notice is a refreshed Audi Field this season. 
Ahead of the 2023 season, the team made several improvements around the stadium, including offering new concessions and food options.
The team also is celebrating D.C.'s Cherry Blossoms this year. It unveiled a new 'away' jersey that features the District's famed blooms.
"For us it's about fan experience and tradition, and we want to make sure that we are always honoring tradition," said Danita Johnson the team's president of business operations. "It is important that we honor our past, and we have infused that into our stadium as we move forward."
In addition to the Cherry Blossom Kit, fans can purchase the limited-edition D.C. United Black History Month t-shirts at the game. 
The shirts, designed by local artist and educator Brandi "Blu" Murphy, shows a picture of one of Murphy's students with the writing "I am black history."
A portion of the proceeds from the shirts sales, will go to Urban Alliance, a nonprofit organization committed to connecting students to equitable, inclusive careers through paid high school internships, mentorship, and professional development.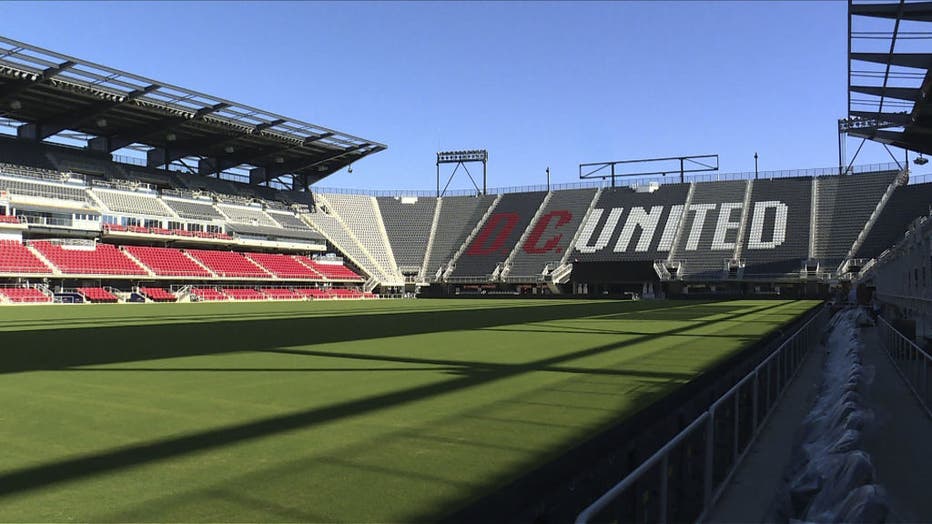 Audi Field, a soccer-specific stadium is shown in Buzzard Point in Washington, DC on July 9, 2018. - It is the home stadium for the DC United team of Major League Soccer, and will seat 20,000 people. (Photo by Gilles CLARENNE / AFP) (Photo credit sho
The student depicted on the shirt, who is named King, will be honored during halftime of Saturday night's game.
In addition to the changes on the field and at the stadium, officials tell FOX 5 the team will host a series of community-driven activities and partnerships meant to focus on diversity and inclusion.
"We have been doing executive shadow days engaging with student athletes from Anacostia High School, through SOUL, with Urban alliance, we've done educational panels to educate our staff about different historic black organizations in the community, serving black and brown youth and families and then also we did a historic bus tour with our members our staff and several of our players to learn about some of the landmarks and key things in our community," Shanell Mosley from the D.C. United Foundation tells FOX 5.