DC man brutally beaten on Anacostia Riverwalk Trail
WASHINGTON - "A bit shocking. It reminded me of sort of a metaphorical bomb going off in my face," said a D.C. resident who claims he was violently assaulted over the weekend near RFK Stadium in Northeast. 
He is not revealing his name for protection measures and due to his profession, but says he is still processing what happened, and is angry someone would hurt a stranger.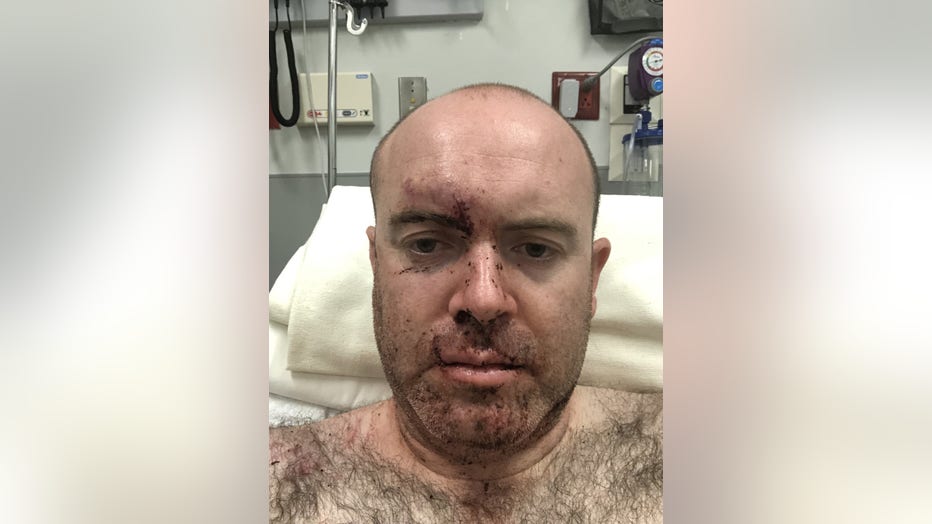 Around 11 a.m. on Sunday morning, the D.C. resident was on his run along the Anacostia Riverwalk Trail when he accidentally ran into another gentleman.
"In fairness to him, I was completely distracted and kind of doing my own thing as a workout and I bumped shoulders with him, so my left shoulder hit his right shoulder. I apologized, and he went berserk," the D.C. man recalled. 
The brutal beating left the D.C. resident badly banged up with bruises, cuts, and even a broken nose. He was rushed to the George Washington Trauma Center.
"He took my phone, took my wedding ring, took my earphones out of my ears, then proceeded to hit me about 30 to 40 times," the D.C. assault victim said. "I've not encountered something like that degree of force from another person with that little degree of warning."
After living in the nation's capital for 5 years and experiencing the rise in bizarre crime himself, the victim says he'll be moving out of the city. He added it is not a comforting place to raise a child.
"Ultimately, from a family planning standpoint, my wife is due very soon, and we don't feel safe here anymore," he said. 
The D.C. resident says he wants to know why the suspect would act out in such an aggravated way.
"I would like to understand what set him off that way and who hurt him before that made his temper so hair trigger-like," he said. 
FOX 5 did contact D.C. police for a report. In an e-mail response, they said one was filed, but could not be released yet.
At this time, it is not clear whether the person responsible will face any criminal charges for his actions.
The assault victim in this situation does want to thank the five witnesses who intervened to ensure more damage wouldn't be done, and he truly appreciates them calling 911.